20 Facts That Really Cored Our Apples
Who doesn't love a good list of random yet interesting facts? You're in for a treat, because that's exactly what we've got. Matt Damon wrote the first act of "Good Will Hunting" for a playwriting class, and after being assigned to create the first act of a play, he turned in the 40 page script and said, "Look, I might have failed your class, but it is the first act of something longer." And, over a century before that, Charles Darwin and Joseph Hooker started the world's first terraforming project (in 1850) which has turned Ascension Island - an arid volcanic wasteland - into a self-sustaining ecosystem made completely foreign plants from all over the world. Lastly (and maybe most interestingly), The Powerball drawing on March 30th 2005 produced 110 2nd-prize winners who had all played numbers found inside fortune cookies. Talk about lucky… or maybe not so much considering their winning numbers were obviously meant to be shared!
Feral chicken numbers exploded in a UK island in 2019.
Alaskan sea otters were sent to Washington state when the US was testing nukes.
Big Brother had to adjust their information isolation policy after 9/11.
2 large, underground tunnels supply NYC with all of its water.
Manute Bol was 7'7" and benched 45 lbs when he was drafted.
Only 1 space satellite has been obliterated by a meteorite.
Dunking an octopus in ethanol is a humane way to sedate them.
Saab made a prototype car with no steering wheel.
The religious Shaker community can only get new members by convincing outsiders.
The most dangerous road on Earth is the Road of Death that connects the Amazon Rainforest to La Paz, Bolivia.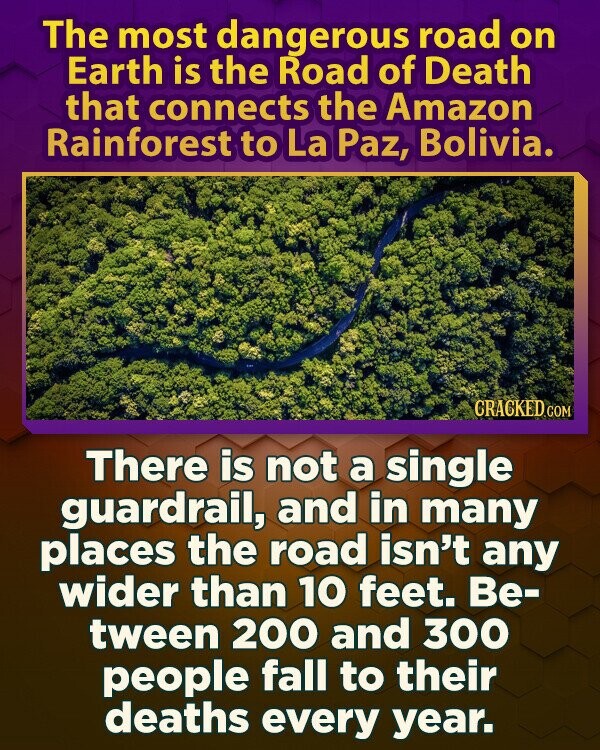 The brain sends the signal to cause the body to vomit.
Christmas is banned in North Korea.
Jesus doesn't want anyone with Celiac disease.
A King from Jordan had a non-speaking role in Star Trek.
Sinéad O'Connor was banned from a NJ concert hall.
The inspiration for "Rain Man" used both his eyes independently to speed read.
Bubble baths stay warm longer.
110 people won 2nd prize on the Powerball by playing fortune cookie numbers.
Charles Darwin was able to terraform a volcanic wasteland.
"Good Will Hunting" started as a writing assignment.