25 Puzzling Headlines From Across This Nutty World
Ever since the announcement that King Charles III will be appearing on Australian $5 notes, Aussies have been vocal about who they think should really be on their money. The top contender? Crocodile hunter Steve Irwin (yes, seriously). But whether it's because of an undying love for the late animal expert or a hatred of the British monarchy, one thing is certain: Australians don't want King Charles on their money. In other news, a man who made bomb threats to Merriam-Webster dictionary company over updated gender pronouns plead guilty in federal court this week. Prosecutors say he threatened "a mass shooting scenario" and said he would kill employees if they did not change their definitions back. And finally, in what can only be described as peak Florida: Governor Ron DeSantis tricked Venezuelan migrant workers onto a plane bound for Martha's Vineyard so he could stick it to liberals criticizing his treatment of migrants at the southern border.
Celtic fans sing anti-monarchy song throughout minute's applause for the Queen.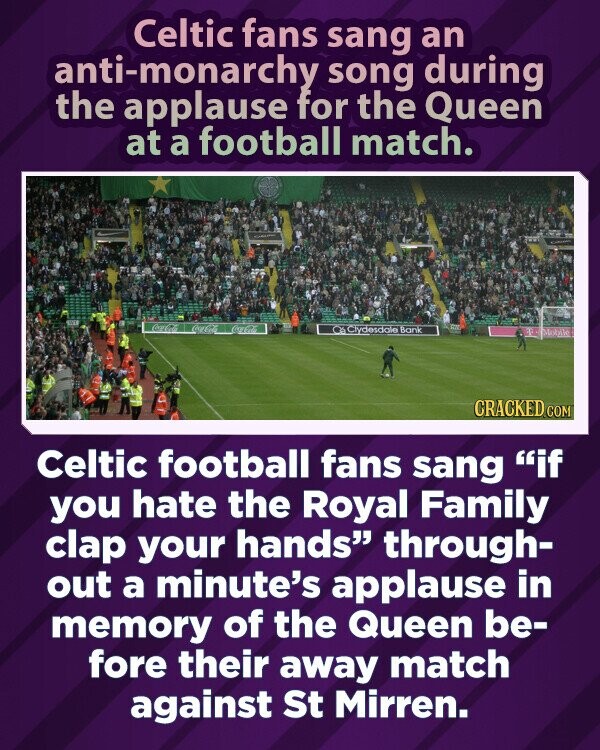 GoFundMe created for woman arrested for bringing raccoon into North Dakota bar.
Harris County Sheriff's Office deputy gets sick after taking drugs he mistook for candy.
Aggressive turkeys take over Woburn neighborhood.
Doctors remove 50 AA and AAA batteries from woman's gut and stomach.
Woman seriously hurt after Platteville police car she was placed in is hit by train.
Family check bank account to find they're $99 billion in debt.
'We all make mistakes,' says woman who got bit by an octopus she put on her face.
Colorado man arrested on suspicion of riding horse drunk.
The first fatal kangaroo attack in 85 years just took place in Australia.
Wegmans ends self-checkout app after too much shoplifting.
'Vindictive' couple deleted hotel chain data for fun.
Man Lost in Wilderness Nearly Left Behind After Searchers Mistake Distress Calls for 'Hello.'
Amateur football teams in Sheffield face punishment for playing after Queen's death.
Morrisons 'turns down beeps on checkouts' in response to Queen's death.
Take a poop to 'assert ownership' during eviction, says Vancouver city council candidate.
Nursing home hires a stripper to entertain their seniors in wheelchairs.
Avalanche of sex toys spill out onto highway after truck flips over.
'Complete set of undergarments' required for execution witnesses, Alabama officials say.
A new, genetically modified purple tomato may hit the grocery market stands.
Police were called to a Dairy Queen in Delmont for a man with a gun wearing a clown wig.
Chess world rocked by rumours of anal beads and artificial intelligence.
Migrants Flown to Martha's Vineyard Say They Were Misled.
Man who threatened Merriam Webster dictionary over updated gender pronouns pleads guilty.
Australians want Steve Irwin on their money and not King Charles.