18 Dog/Human Relationships in Pop Culture That Could Use Some Therapy and Counseling
The relationship between man and dog has been fruitful for both species for tens of thousands of years. There is a reason why dogs are referred to as "man's best friend" after all. Yet even in the best relationships there can be something to work on. Maybe there are some heavy codependency issues, frustrations, or possible resentment that could be aired out and make the bond even stronger between mankind and beast.
If you look at some of the most famous man/dog relationships in movies, TV, cartoons, and other parts of popular culture, you can see the frayed seams of an otherwise solid relationship. Then again, if their relationship is antagonistic, you can find the root of their conflict so that healing can begin and maybe a friendship can be forged.
Here are some examples of man and dog relationships in popular culture that could use some therapy and counseling to help address their issues.
John Wick
The Wizard of Oz
Toy Story
Game of Thrones
Frasier
Peanuts
The Simpsons
Scooby-Doo
Rocko's Modern Life
Tekken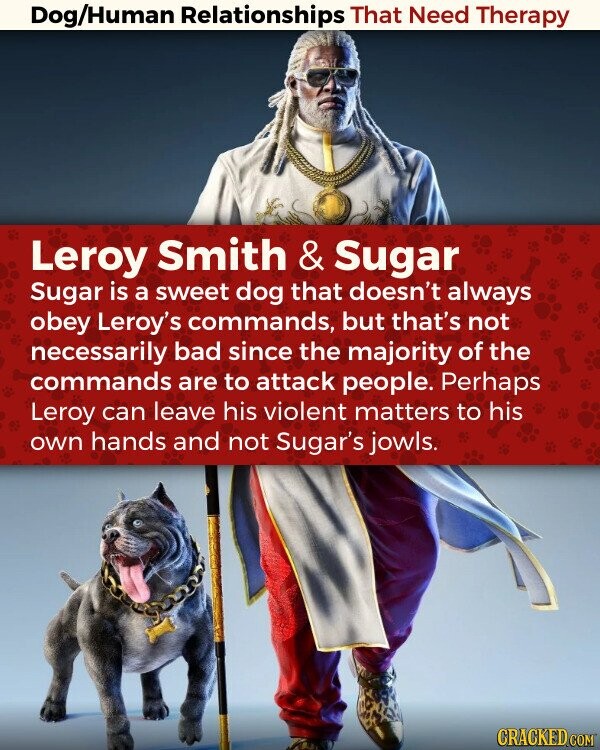 How the Grinch Stole Christmas
Family Guy
Dynomutt, Dog Wonder
Back to the Future
Metal Gear Solid
Parks and Recreation
Adventure Time
Futurama
Scroll down for the next article