Saturday Night Live: 15 'Weekend Update' Jokes For The Ages
The first thing we need to do is establish some common ground. To enjoy this list of interesting facts you will have to be open to learning something about the world that you did not already know. That means that you must at least be familiar with the most basic tenets of the scientific method, and if you're not, I encourage you to read up. Once you have done that, you'll probably want to know what kind of "fact" this is. It's a fact, but it's also a story, because the history of science is full of people doing really interesting stuff in order to test their hypotheses. And it's a list, because that's what this is. It's a collection of strange, fascinating, funny, and occasionally bizarre things. Some of these stories are well-known; some are not. I enjoy this list of interesting facts as much as anyone, and I'm happy to share it. I hope that you find it just as entertaining. That should be enough of an introduction for now. Let's begin!
Norm's OJ Simpson Jokes
David Spade's Hollywood Minute Puppet
Seth Meyers on Justin Bieber
Amy Poehler on Shakira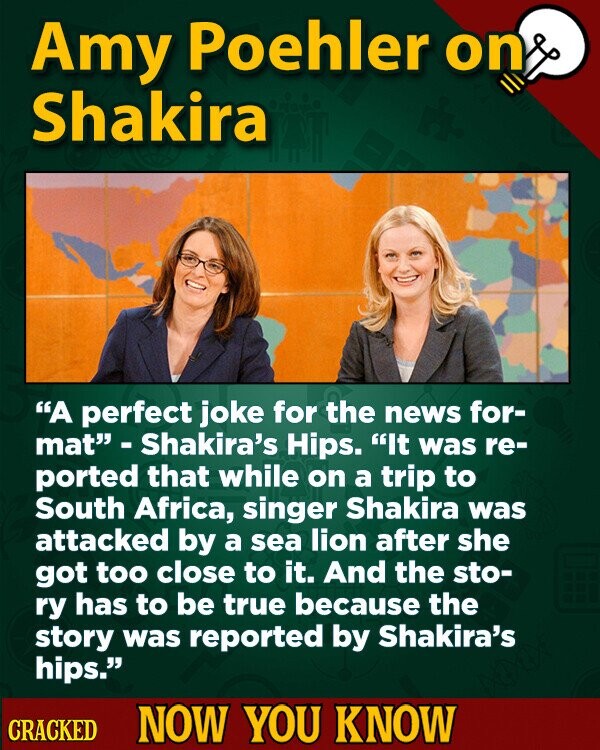 Cecily Strong Blizzard Party
David Spade on Eddie Murphy
Norm on Women Drivers
Chevy Chase and the Prostitute Stamp
Tina Fey on Bush
Dennis Miller and Kevin Nealon "All Drug Olympics"
Jimmy Fallon On Michael Jackson
Norm Macdonald on the Clintons
Colin Jost Jokes That Were Clearly Written By Michael Che.
Cecily Strong on Nicholas Cage.
Seth Myers on drinking.