20 Splendiferous Facts That Really Linked Our Sausages
We enjoy this list of interesting facts on the Internet. And we are not alone. There are many of these lists out there. But most are really nothing more than a list of facts and figures. What's the difference? We have always thought that there was a lot more to it than just a list of random facts. For example, there is an old saying that the best way to learn about someone is to ask them questions that they do not know the answer to. We feel that our facts will be more entertaining to read if we offer a bit of a back story. There is an old joke about a man who visits his doctor for an annual checkup and the doctor says, "I am happy to tell you that everything checks out fine with your body. However, your brain has developed a number of tumors that are inoperable." The man says, "OK, what can you do to help me?" The doctor says, "I can give you a pill that will make you enjoy this list of interesting facts."
Frank Sinatra photographed Ali vs Frazier when he couldn't get a seat.
Marlon Brando read his lines in "Superman" off of Kal-El's diaper.
A 1,000 foot asteroid will come between Earth and the Moon in 2029.
Spain set their clocks to match the Nazis.
Waterbeds made up a quarter of all mattresses sold in the 1980s.
NASA is not trying to cover up an alien satellite in orbit around the Earth.
Airplane oxygen masks use a chemical reaction, not oxygen tanks.
A "Hey Jude" promotion was mistaken for antisemitic graffiti.
The longest a person has gone without food or water is 18 days.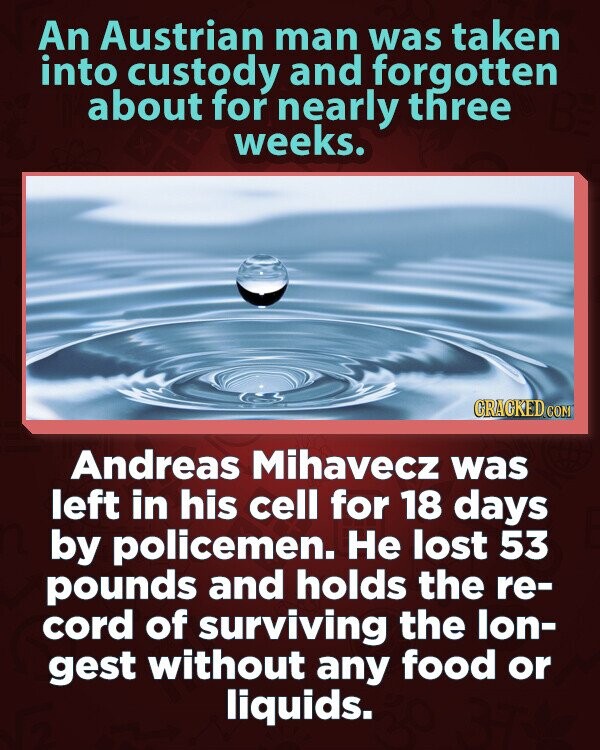 Grandpas committed the biggest bank robbery in English history.
A cyclist smuggled documents past the Nazis to help Jews during WWII.
Washington didn't want a monument dedicated to him.
The last mammoths lived 4000 years ago.
Giraffes have to eat from trees downwind of other trees.
Dave Mustaine damaged his hand by falling asleep with his arm over a chair.
Yellow-white chocolate is of better quality than pure white.
A car killed so many Nazi officers that it was called the "Czech secret weapon."
Ella Fitzgerald had a voice so precise that you could tune instruments to it.
A blind king rode into battle with his horse tied to those of his soldiers.
A gay opera singer faked the death of her lover to escape a convent.