Tell Us Now: 13 Terrible Pieces Of Financial Advice
We asked Cracked readers on Facebook, "What's the worst financial advice you've gotten from a professional?" The following are all reader responses, not actual financial advice. Look, if we knew anything about money, none of us would have chosen to be writers in a job making internet content. Don't take any of the following as some kind of reverse advice … but also don't take it as straightforward advice. Please just don't look to Cracked.com for any advice at all.
If The Wolf of Wallstreet (our only understanding of money) taught us anything, it was that Jonah Hill has some real range as an actor. It also taught us not to trust people in finance because they don't really have any accountability. Your collective responses of cringe-worthy advice you've gotten from so-called professionals helped to affirm this loosely held belief.
Read on to feel second-hand financial pain. Sending you good luck making an amount of wealth that lets you live comfortably.
Cut out everything that isn't necessary!
Invest in the Star Wars prequel!
Pay more than you can afford on a house ... in 2006!
Save $100, regardless of how much money you need to survive!
Wait to lock in on an interest rate!
Buying a house is ALWAYS a good investment
Spend lots on higher education!
Invest in Bitcoin/NFTs!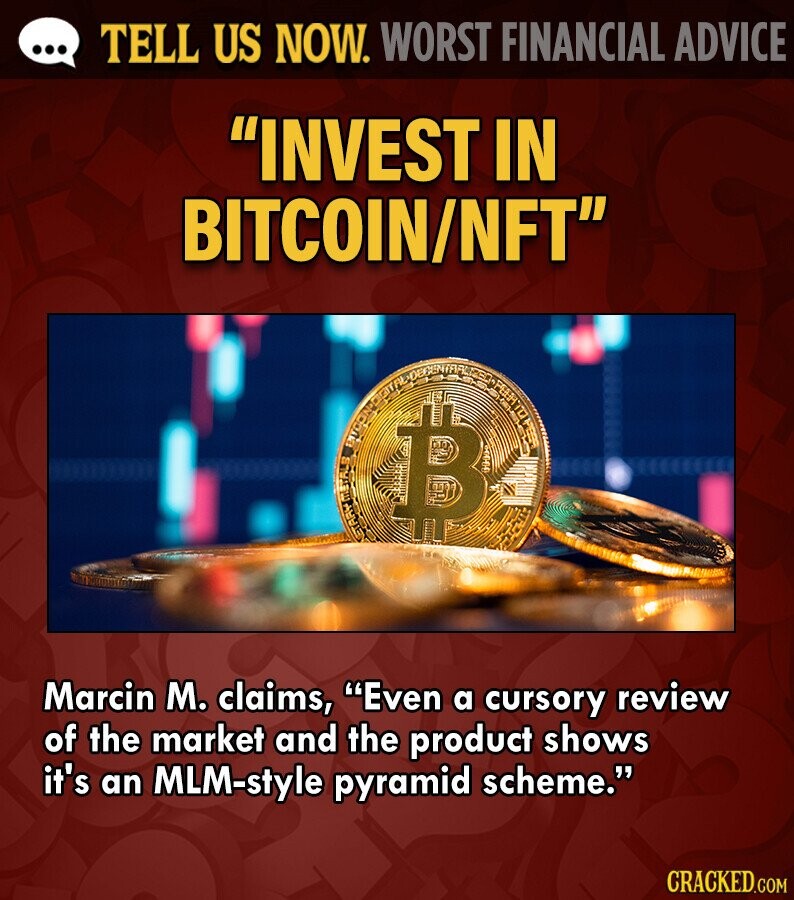 Invest 10% of every paycheck ... even when you're broke
Just leave money in your account!
Sell Apple low!
Spend more to make less!
Scroll down for the next article