20 Coveted Facts For Any Trivia Spelunker
One day I woke up and realized that I was still young. My plan was to spend my days on this planet writing a long-form confessional piece about myself, but I noticed that my readers were beginning to think that I was only talking about myself when I did something that was not as funny or interesting as it seemed at the time. This led to a number of changes in my plans, including: 1. Instead of writing a long-form confession, I decided to make a list of strange and entertaining facts, with my personal feelings and opinions about those things hidden under a veneer of irony and humor. 2. I decided to keep the title of the list general, so that the title could be changed if necessary, instead of trying to guess what my personal feelings would be about any particular subject. 3. I decided that it would be easier to enjoy this list of interesting facts if it had no real beginning and no real ending, but was a seemingly endless list of items, instead of having a single, linear story line. Anyway, enjoy!
Michigan pays royalties to play the state anthem.
A sculpture of Chief Crazy Horse is being carved 17 miles from Mount Rushmore.
Orcas and Australian whalers worked cooperatively.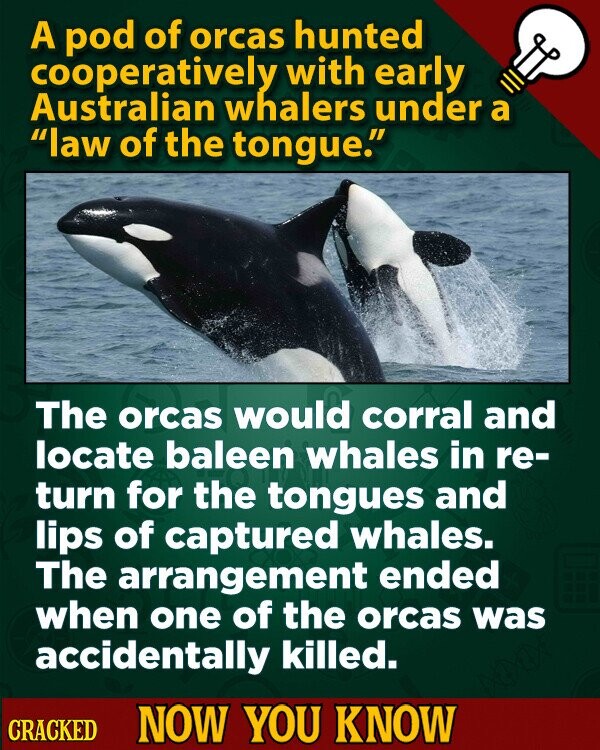 Waluigi was created just to be Wario's tennis partner.
'The Desert Vampire' was an Iranian serial killer.
Cyclists during the 1990's took so many steroids they were at risk of heart attacks as they slept.
Dr. Oz is a fraud.
"Lo" was the first communication sent over the internet.
A computer virus lead to a man turning himself into the police.
The Powerpuff Girls used to be the Whoopass Girls.
Charcoal beetles fly into burning forest fires.
Vacations were introduced by William the Conqueror.
Magic Johnson was the only rookie to win NBA FInals MVP.
Turns out, quarantine is super effective.
Nickelodeons were 5 cent theaters.
Doctors thought working out at a fitness club would decrease sex drive in the '30s.
India makes most of the world's spices, by a large margin.
Don't feed bread to birds.
Rachel Weisz kept changing her name in her early career.
Prairie dogs have their own call to describe a man with a gun.