20 Facts Worth Digging For
I enjoy this list of interesting facts a great deal. I am very good at memorizing lists. I have a very long memory. I remember everything I see. The first time I saw the sun was on a beach in Bermuda. My father took my sister and me there for our summer holiday. He gave us a choice of beach locations. We could spend the day on a public beach, which we would share with thousands of people from all over the world, or we could choose one that was less popular. The problem with the less popular beach was that it was located behind the high-rise hotel in the center of town. It was too far away from anything, and it was too expensive. However, my father told us that he had booked it for us anyway, and if we didn't like it, then we didn't have to come. But I'm sure you'll like this list, though.
We are halfway through Saturn's rings' lifespan.
Working in the heat can make you more aggressive.
Pop up ads lead to a teacher being convicted of sex crimes.
The Soviets dumped thousands of prisoners in Siberia with no shelter.
115 Greeks escaped being surrounded by 10,000 troops with just 6 casualties.
The police were never meant to help people.
The 'Red Hand of Ulster' sigil may be based on the story of a boat race to determine the next king.
Asphalt is able to be 99% recycled.
Some Hollywood circles believe in an "Oscar Love Curse."
The Retail Credit Company changed their name after congressional hearings.
An English painter got their start by smearing poop on the wall.
A Japanese Emperor was a huge Mickey Mouse fan.
Randy Rhoads was killed when his tour bus driver crashed their plane.
Robert Zemeckis will block all attempts at a 'Back to the Future" remake.
7,000 year old mummies are turning to goo.
The Third Reich was the first to carry the Olympic torch in a relay.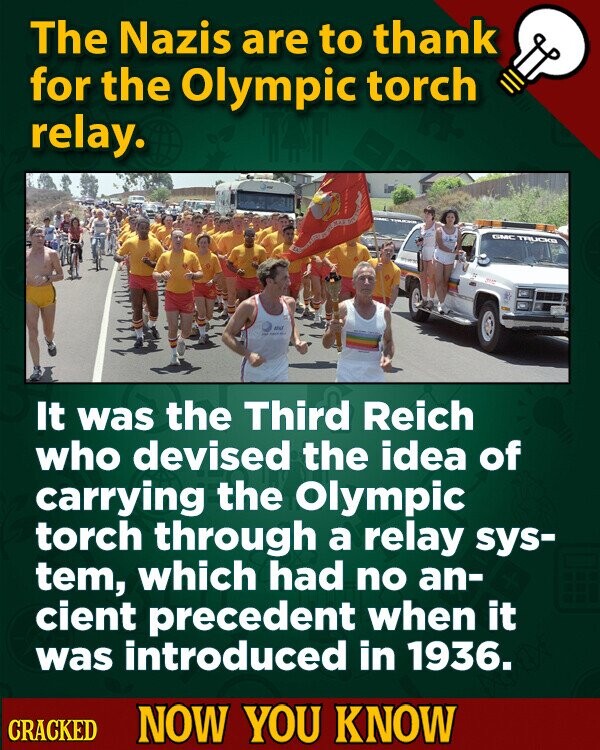 The biggest glitter buyer wants to remain anonymous.
Pizza Hut made an off-world delivery.
BPA-free plastics still contain a harmful chemical.
Queen's fan mail went to The Queen.