20 Facts That Are Better to Learn Late Than Never
As children enjoy this list of interesting facts, so do I. I used to make a point of learning many new things every day, and I'm not sure why that has stopped. As a matter of fact, I have learned so many interesting things in my lifetime that the whole subject is simply too vast to mention them all. Instead, I will confine myself to mentioning only those facts I find most fascinating, most wonderful, most amusing or most interesting. The other facts can be found by doing an internet search with the words "interesting facts" followed by the name of some topic you are interested in. You will be amazed at how many interesting facts there are about everything. I'm sure you will find one or two interesting facts that have been omitted here, but they are just that - interesting facts. The title of this piece is a joke. It is meant to entertain our brains. It is not meant to educate our brains, which would take too much effort.
Joe Pesci has released a few albums since 1968.
A German flying ace is still alive at 100.
Two 747s collided on the runway, killing everyone on board.
Steve Irwin named his daughter after two animals he liked.
Some households always seem to purchase products destined to fail.
Otis Redding died before he could finish one of his biggest hits.
Thousands of Bulgarian war prisoners were blinded and returned home by a Byzantine Emperor.
The original Peter Pan didn't use fairy dust.
A family portrait was left on the moon.
It took over 14 years to develop 'Duke Nukem Forever.'
The invasive Spotted Lanternfly is causing millions of dollars worth of damage in the US.
The oldest European building in the West was brought over brick by brick.
Water levels have receded enough that you can explore the flooded town St. Thomas.
A game show in the Philippines led to a stampede that killed 73 people.
111 year old expedition equipment is still on the South Pole.
Mongolian beef is actually Taiwanese beef.
A 12 year old found the first ichthyosaur fossil.
'Dennis the Menace' was two characters created independently in the US and Britain.
It only took 20 seconds for a WWII Spitfire to burn through all of its ammo.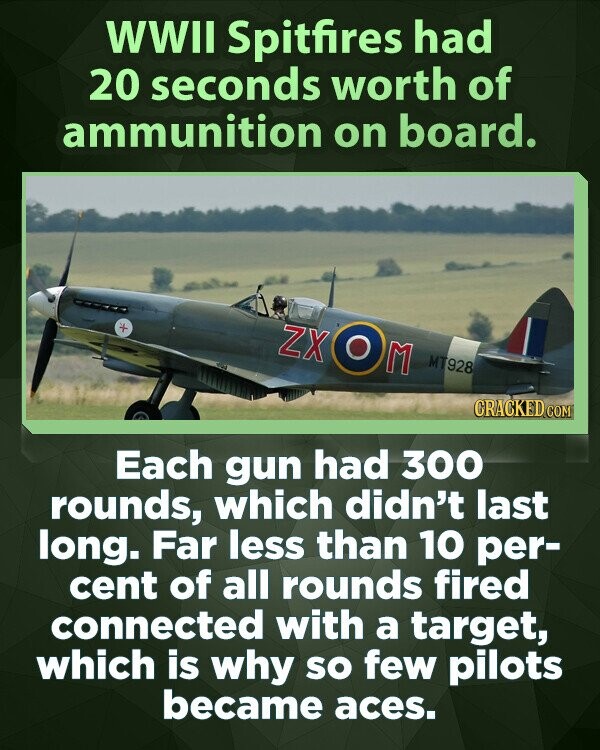 Warfare manuals were balloon-dropped by the CIA to Nicaragua rebels.