15 Very, Very Good Facts That Made Our Mothers Proud
The world is a very odd place, but it has its uses. I have used my powers to make myself very rich and I am quite pleased with that. I do not need much in this life; a comfortable home, a wife who loves me (just as I love her, so that's good), food on the table, wine in front of me, a few pretty women at my beck and call. What more could a man ask for? The one thing I don't like about the world we live in is how many people are stupid. There must be some way I can exploit this, to get rich from the stupidity of others! But what form would this exploit take? I know I am smart, but there must be something more than just being smart ...
There must be ....
Yes ...
Yes ...
... I know! I also need to learn things. To start with, let's look at this list of fifteen facts …
A 50% stake in Domino's was sold for a Beetle in 1961.
Carl Sagan was hired to study how a nuke would go off on the moon.
FedEx was saved by a lucky trip to Vegas.
Daylight Saving Time almost got an innocent kid pinched for a bomb threat.
The match was invented after the lighter.
Dr. Seuss proved he could write a book with just 50 words.
A guy who couldn't play guitar created Fender.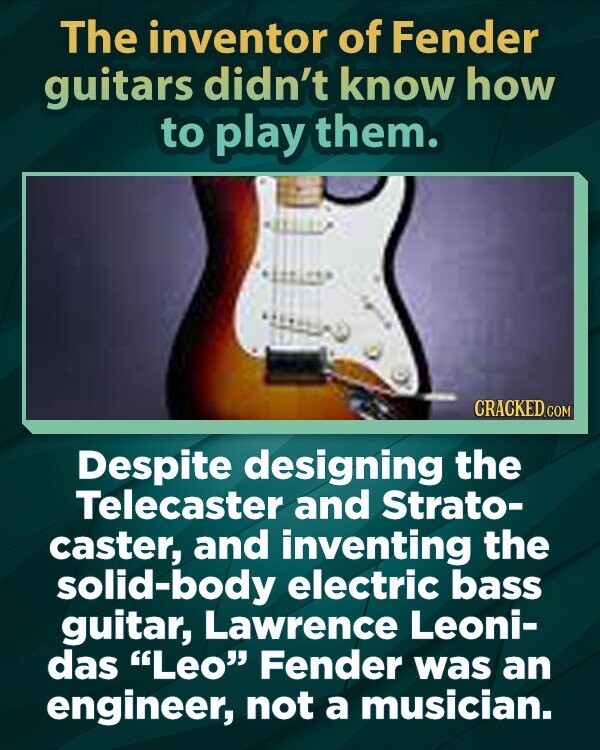 Mr. Rogers swam nude.
The original purpose of Play-Doh was to clean wallpaper.
Antarctica has the world's loneliest ATM.
You couldn't get toilet paper in grocery stores for three weeks thanks to Johnny Carson.
A girl without a vagina was impregnated after being stabbed.
Cockfighting predates domesticated chickens.
The inhabitants of the Canary Islands spoke in whistles.
There used to be psych meds in 7 Up.