15 Very, Very Good Facts That Made Our Mothers Proud
The world is a very odd place, but it has its uses. I have used my powers to make myself very rich and I am quite pleased with that. I do not need much in this life; a comfortable home, a wife who loves me (just as I love her, so that's good), food on the table, wine in front of me, a few pretty women at my beck and call. What more could a man ask for? The one thing I don't like about the world we live in is how many people are stupid. There must be some way I can exploit this, to get rich from the stupidity of others! But what form would this exploit take? I know I am smart, but there must be something more than just being smart ...
There must be ....
Yes ...
Yes ...
... I know! I also need to learn things. To start with, let's look at this list of fifteen facts …
A 50% stake in Domino's was sold for a Beetle in 1961.
Carl Sagan was hired to study how a nuke would go off on the moon.
FedEx was saved by a lucky trip to Vegas.
Daylight Saving Time almost got an innocent kid pinched for a bomb threat.
A guy who couldn't play guitar created Fender.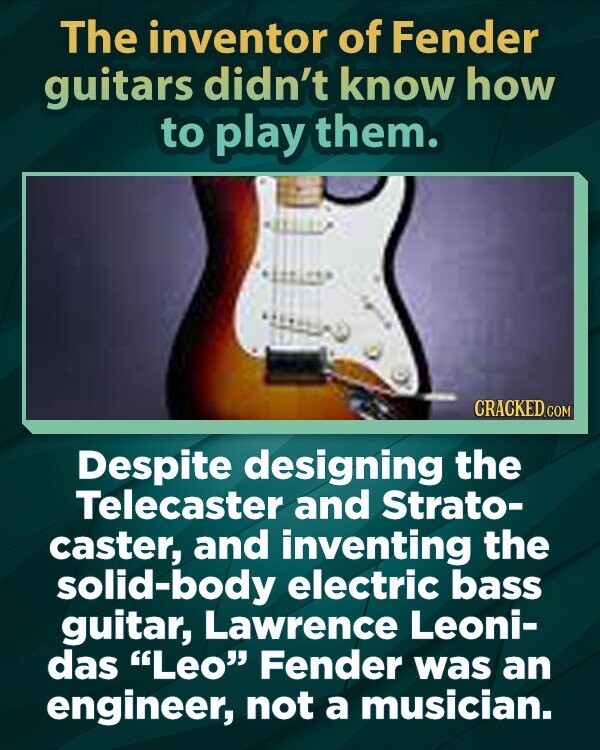 Mr. Rogers swam nude.
The original purpose of Play-Doh was to clean wallpaper.
Antarctica has the world's loneliest ATM.
Cockfighting predates domesticated chickens.
The inhabitants of the Canary Islands spoke in whistles.
There used to be psych meds in 7 Up.