15 Trivia Tidbits That Steamed Our Broccoli
Two soldiers stand on an old, rusty ladder. They are both wearing helmets with the visors closed, but one of them has a small mirror in his left hand and is using it to look into his own visor. He looks at himself for a moment, then turns to the other man and says: "I was a great magician when I was young."
The other soldier is wearing a helmet with its visor open and is looking out into the trench beyond, where a group of soldiers are walking past on patrol. That other soldier looks over to see what has caught his attention and sees that they are carrying guns, although the soldiers seem to be ignoring their existence as they walk past. "They're carrying weapons, aren't they?" he asks.
"Yes ... they are," sighs the soldier who used to be a magician.
"Say ... why did you stop doing magic, anyway? And join the army?"
"I learned something that drove me mad."
"What ... what .... what was it?"
"It was a list of fifteen facts, and it went ...
There is one freshwater lake with ocean life.
Jumping beans have bugs in them.
Light colors confuse and repel mosquitos.
Warren Beatty exterminated rodents before acting.
Boxing champ Jack Johnson invented a wrench in prison.
Val Kilmer's dad bought Roy Roger's ranch.
Hitchcock lost his belly button after a surgery.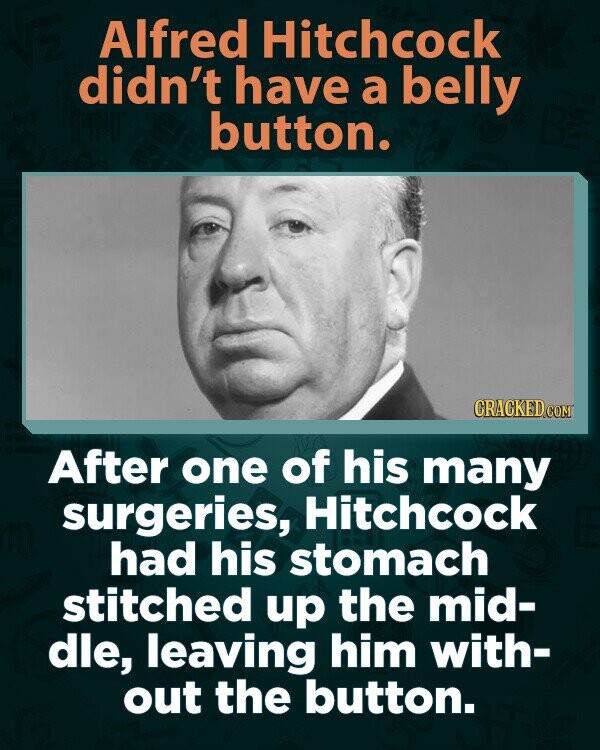 Howard Hughes lounged around naked watching movies and peeing in jars.
Birth control works on gorillas.
Da Vinci wrote backwards to safeguard his notes.
Caesar probably suffered from a series of mini-strokes.
Oscars during WWII were made of painted plaster.
Cleopatra comes from a long line of incest.
Hitler loved the movie "King Kong."
LL Cool J stands for 'Ladies Love Cool James.'