15 Bits Of Good News That Really Fluffed Our Pillows
I had no idea what to expect, but I knew this day would be special. I was going to finally meet my grandfather, and I couldn't contain my excitement. My grandfather was a very old and very wise man—he had been born before the Great Depression—and so I had always assumed he must be a sorcerer or something. It turned out he was not, but was rather a retired accountant who had worked at one time in the tax office for a large corporation that was now defunct and whose name no one remembers. He spent his entire working career there, but had never married and lived alone with his cat in a tiny house on the outskirts of town. When my great-grandparents passed away he inherited their home, which I think is why the house is still standing after more than twenty years.
Turns out that my grandfather kept a list of strange facts printed out, and he kept reading it over and over. The list went ...
A wildlife bridge in California will help cougars over a deadly freeway.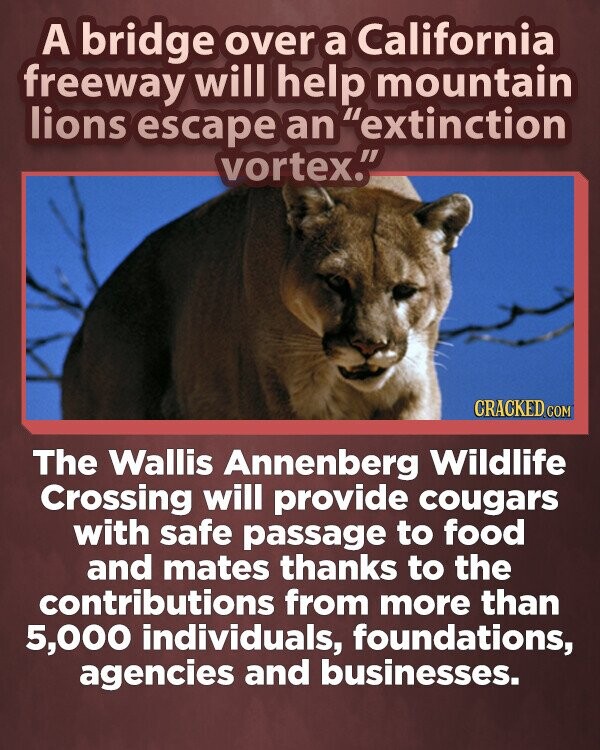 A cancer survivor and amputee set a new record for women's running.
Rats' days are numbered on Lord Howe Island.
An emotional support pig saved his war veteran owner.
A puppy found 19th century gold on his first walk.
An Australian man shrugged off a bite from a deadly snake at a resort.
Free bus travel is now available to anyone under 22 in Scotland.
The James Webb Telescope is up and running.
Leftover hotel soaps are being recycled and donated to the less fortunate.
Banned books are available for free at the NY Public Library.
Jinx that cat will be Hell, Michigan's first feline mayor (for a day).
Google must allow a 'reject all' button for cookies in the EU.
An enzyme that eats plastic could help eliminate landfill waste.