15 Weird Bits Of News That Make Our High School Selves Look Normal
"I've always had a hard time understanding spellcasting" thought the man, who was not yet a wizard. He'd been sitting alone for several hours in front of an enormous book, but he'd only just now gotten to the part about curses being cast on the innocent because someone didn't stop to help someone in distress. He had been reading it all night, which was why he was still wearing the same robe he had put on before he went to bed and why there was a half-drunk cup of tea in front of him, untouched.
It had taken him so long to read that far into this particular book, and yet, as far as he'd gotten, it hadn't seemed like he'd made any real progress. It was just that he couldn't make heads or tails of the section about how to dispel curses cast on the innocent. The section was just a list of fifteen odd facts, and it went:
Brazil has the hardest military in the world.
A squatter is refusing to leave a home even as it's being sold.
The death of a man found in his home with 24 caged snakes has been ruled an accident.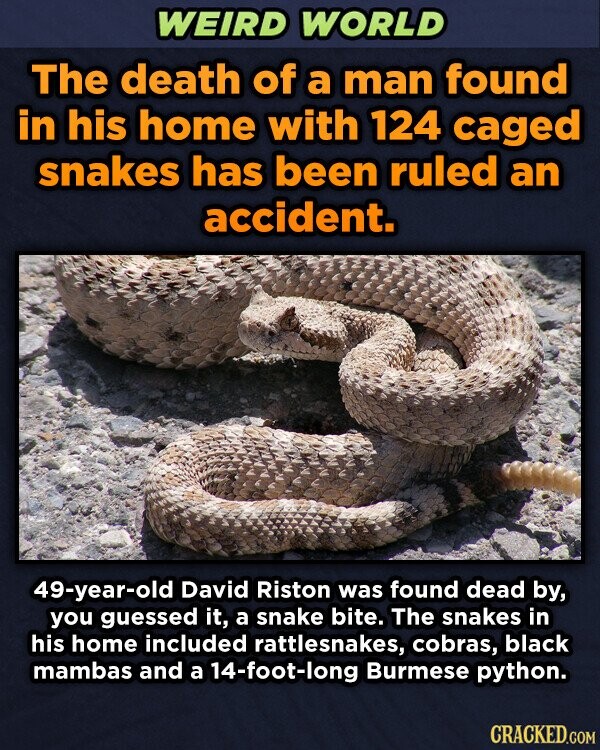 The one constant in life is the 99 cent AriZona iced tea.
Death by firing squad is back on the menu in SC.
Disney music was used to make footage of a police officer harder to post online.
A new bike lane is being called a "clear getaway" to criminals.
The man accused of shooting Lady Gaga's dog walker was accidentally let out of jail.
Hitler was used as an example of how the homeless can use their situation to their advantage.
A sword-cane was turned over after accidentally being brought to an airport.
Hertz will stop putting the hurt on its customers.
The wrong house was torn down in Alabama.
A self-driving car was pulled over and fled the traffic stop.
Florida's governor has been given power to gerrymander as he pleases.
It's like the 4 minute mile, but really very different and not like it at all.