Tell Us Now: 16 Eyebrow-Arching Wedding Disasters
We at Cracked love drama, and there's nothing as dramatic as a ruined wedding. In fact, is it really a wedding if everything goes perfectly according to plan? Since most weddings don't actually have the "Speak now or forever hold your peace" line (which is where movies prefer to place the drama), we have to find new and weirder ways to interrupt someone's legal union.
So we asked Cracked readers, "What's the worst thing you've witnessed at a wedding?" The most common response from our cynical readers was "Marriage." We understand the sentiment, but we think even a bad union can be heightened by events on the day of their wedding. However, there were plenty of responses that left our jaws on the floor, from silly interruptions to straight-up horrors. After all, if the most expensive party of your life was ruined, let's hope at the very least some strangers on the internet are able to get second-hand entertainment out of it.
Why you shouldn't wear white to a wedding
How to ruin a marriage at a wedding
Vows that last a lifetime
Wedding commentary
A poor turnout
Crying over lost money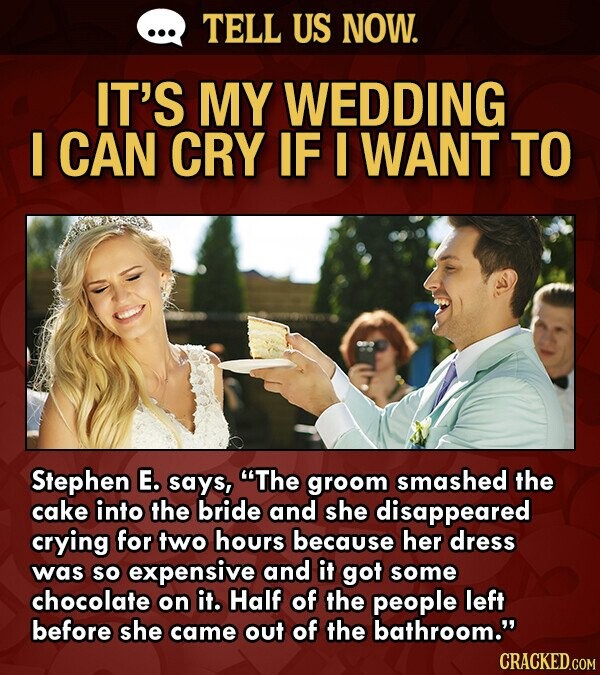 Now that's some dedication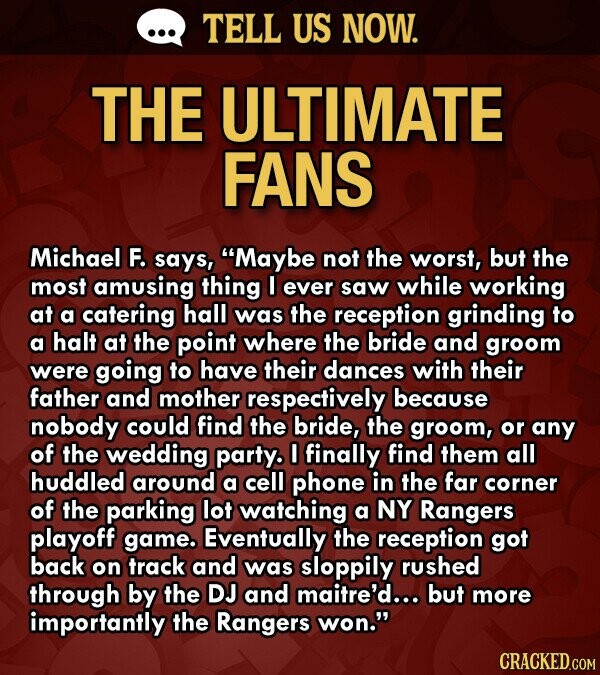 How to ruin your wedding in 1 day
Best to avoid phobias
Things you never want to hear your mother say
The ol' ball and chain
A beautiful love story that started on someone else's wedding day
Don't bring a gun to a wedding
Break a leg
That's one way to get an attentive crowd
How to ruin your marriage on the first day
Scroll down for the next article