15 Movie Franchises With At Least Three More Entries Than Anyone Would Reasonably Think
It makes sense that there are 25 James Bond films. That franchise is enormous, a generation-straddling piece of constantly evolving pop culture that is unignorably massive — people who would never dream of watching a Bond film still know the basic tenets (handsome drunk-driving misogynist beats the shit out of people).
Similarly, it makes absolute sense that people can't stop making Batman movies, Spider-Man movies and Godzilla movies. Again, these are characters that have transcended the medium that begat them and have entered the ether of public consciousness. If you ran a studio and were able to make another Spider-Man movie, why would you ever not make another Spider-Man movie?
Where it gets surprising is in franchises like, say, Wrong Turn. The original came out in 2003, starring Eliza Dushku and Emmanuelle Chriqui — an enjoyable enough slasher featuring unfeasibly attractive youngsters being killed by inbred mountain men.
As of 2023, there are seven Wrong Turn movies. Seven! That just seems crazy. After Wrong Turn 5, the world wasn't necessarily clamoring for Wrong Turn 6. But it arrived, as did a seventh (oddly enough, both six and seven are reboots, but that's a topic for another day).
There are huge numbers of movie franchises out there just chugging along quietly. In the days of video stores you'd potentially stumble across one and go, "Fuck me, Jaws 19?" but that doesn't happen anymore. They just appear, somewhere, on platforms you're vaguely aware of.
(And yes, there are 27 Bond films if you count the two weird outliers — the really strange original Casino Royale and the dodgy Sean Connery comeback Never Say Never Again. Happy?)
Click right here to get the best of Cracked sent to your inbox.
The 'Universal Soldier' Movies You Haven't Seen Rule
There's an 'Anaconda' and 'Lake Placid' Shared Universe
There Are, Holy Shit, 14 Fucking 'Land Before Time' Films
Tom Berenger's Been Playing the Same 'Sniper' for Three Decades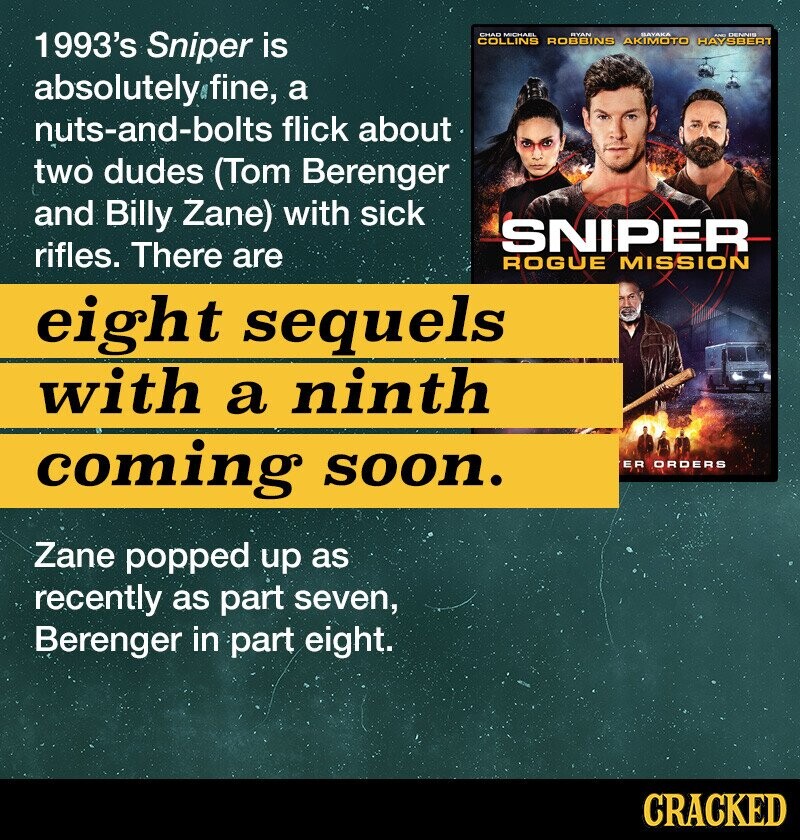 The 'Witchcraft' Series Has Had 16 Films to Rethink the Name 'William Spanner'
The 'Puppet Master' Series Requires a PhD to Truly Comprehend
There Are Two Third Entries in the 'Camp Blood' Series
There Are Eight 'Leprechaun' Films for Wayne to Upset Garth With
If You Knew There Were Seven 'Tremors' Movies, No You Didn't
They Probably Need to Make One, Just One, More 'Friday the 13th'
Ha Ha Ha, No Way, 11 'Children of the Corn' movies? Bullshit! Wait, Really
Two of the Five 'Starship Troopers' Movies Are Cartoons
The 'Beethoven' Franchise Has Long Outlived the Dog
'Behind Enemy Lines' Is the Only Series to Include Both Gene Hackman and Vince McMahon
There Are Five 'Marine' Films in Which You Can't See John Cena
Scroll down for the next article