5 Ways To Hack Your Way To The Perfect Summer Vacation
This piece was written by the people who run the Cracked Store to tell you about products that are being sold there.
Summer is that special time of year when heat exhaustion and kamikaze mosquitoes convince humanity that maybe it's time to take some sort of break. And how we choose to enjoy our summer months is usually totally up to us. If there are two things we all can agree on, it's that the Beach Boys are somehow only tolerable from June until August, and that you don't want to let a single second of your summer time go to waste. We can't make the Beach Boys sound good year-round, but the following items will keep you prepared so that you don't squander a moment of your vacation:
This Inflatable Lantern That Charges Via USB
Going camping without packing some sort of light source is akin to going to the bar without packing your ID -- yes, you can technically do it, but you're basically signing up for a night of playing Angry Birds in your car. The LuminAid PackLite Lantern is the ultimate camping light. It can be charged quickly via USB, and it also contains a high-efficiency solar panel that can refill the battery in just 10 hours. Plus, the inflatable and completely waterproof body will keep your gear illuminated in case you want to take this camping trip into the river. Grab one here for $19.99.
These Long-Lasting Bluetooth Earbuds
Unlike most earbuds, FRESHeBUDS are water-resistant and have a built-in mic for making calls. However, what really makes these buds S-tier is the 10-hour battery life. Now you can finally listen to all of our podcasts back-to-back without having to pause for a battery recharge in the middle of suspenseful moments. (Who invented modern movies? Tell us now!) So if you don't want to look like a dorkus with wires swinging from your earlobes, grab yourself a pair of FRESHeBUDS for $29.95. Tangle-free listening is your new life.
This Full-Face Snorkel Mask
You don't need to be on a Caribbean island or in a supervillain's secret lair this summer to take advantage of this full-face snorkel mask. Just hop into a pool or a particularly unsexy hot tub, and you can observe the murky waters beneath through the amazing 180-degree view design, all while built-in breathing chambers create a dry, natural experience. Just be on the lookout for deadly pool snakes. Grab it here for $55, 57 percent off the regular $130 price tag.
This All-In-One Survival Knife
The Off-Grid Survival Knife features a seat belt cutter, window punch, flashlight, and even a fire starter rod. With that kind of versatility, even Bear Grylls would have to stand up from eating giant beetles and take notice. This knife is a match made in heaven for anyone who rises in the morning to sing odes to the great outdoors -- or really just anyone who believes in being prepared for stuff. Get the Off-Grid Survival Knife for $24.99, which is reduced 28 percent from the original price of $34.99.
This Old-School Bluetooth Boombox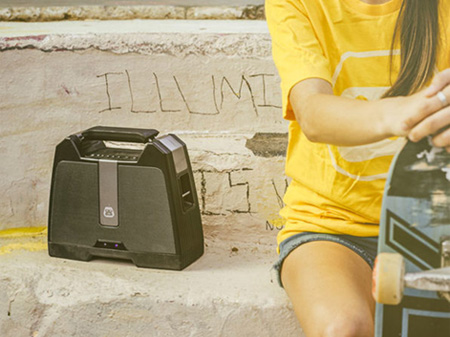 Don't think of the G-Boom as just a speaker system. Think of the G-boom as a party with a handle. We're talking 2.1 speaker configuration, dual rear-firing bass ports, and MAXX AUDIO digital sound processing for optimum bass. In case you didn't spend the majority of your early childhood trapped inside various Circuit Cities across America and are confused, those specs essentially equate to a boombox that can out-thump any other boombox in town. Nothing says summer like your favorite songs being played outdoors with all of your friends. Get the G-BOOM Wireless Bluetooth Boombox for $74.99.
Summer fun, here I come!
Hold on to your beach balls, because there's even more great adventure products right here in the Cracked Store. And if you're looking to up your summer wardrobe, then check out our pop culture mashup shirts in the Cracked Dispensary. But seriously, hold on to your beach balls. Those things can really carry in the wind.
It doesn't matter if you're a Space Cowboy or an Adventuring Doctor. In the end, The Hero's Journey is what summer is all about. So get out there and really LIVE.
Prepare yourself for a summer road trip of epic proportions with 10 Things That Will Help Make Traveling Suck Less.