While it looks like it took him a year of staggering around, pleading with the world to keep him relevant with their collective hate, he finally realized that the only way to generate the same buzz as "Friday" was to do the exact same music video again. No exaggeration there -- the two songs and videos are almost identical. They both open on a calendar, they both have rap interludes in the exact same section, they both promise a vague version of "fun" and "a good time" over and over and they both spend an inordinate amount of time pointing at objects and announcing what they are.
"My friends"; "Car seats"; "Turkey"; "Fourth of July"; "Boom mic."
Even the subtler elements are the same. A pop music critic and sociology professor at California State University, Long Beach, named Oliver Wang said:
"'Friday' embodies any number of current trends practically guaranteed to inspire a set of backlashes ... music for teens, anemic dance tracks, Auto-Tuned vocals, super-trite songwriting and most of all, a resentment toward young people whose presence seems to disproportionately dominate social media."
In other words, Patrice Wilson knew what he was doing and intentionally followed a formula that he stumbled upon with Rebecca Black to ensure that everyone despised his next music video, because that was the only way he could guarantee that it would be watched by millions and millions of people. Just think about that for a second. Fame is still desirable, even when it comes in the form of truckloads of letters from people inviting you to fall in a fire.
As unhealthy and sad as that sounds, it gets worse.
If Patrice Wilson wanted to situate himself in the focal point of the world's loathing, that would be fine. We genuinely like having something to hate, so if someone wants to fill that role, then there's really no harm. Except Patrice Wilson isn't the star of the "It's Thanksgiving" music video, even if he wishes he could be. No, the star is 12-year-old Nicole Westbrook, a bright-eyed kid who had no idea that she was going to be a human sacrifice.
"LOL. Sounds fun, can my friends come?"
With Rebecca Black, it's hard to blame Patrice Wilson for the onslaught of insults and vitriol she had to wade through. He probably didn't know that his shitty song would be shitty enough that everyone would hate-share it. But Nicole Westbrook is different. Everything about "It's Thanksgiving" invites abuse from viewers, from a chorus that just lists dinner sides to Nicole Westbrook earnestly singing her heart out into a turkey leg. It is intentionally bad, baiting critics to rip it to shreds, and everyone seems to know it except that poor goddamn girl. Her career as a singer, her social life, her future are all casualties of Patrice Wilson's hunt for recognition. His best-case scenario was that everyone will hate Nicole Westbrook enough to talk about her for years.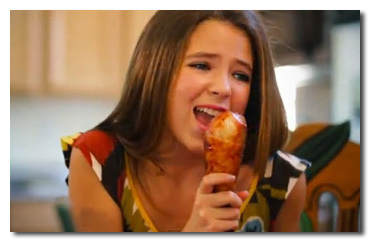 You're still too young for it to mean anything when I say that this picture will live forever.