The 8 Most Misguided Sci-Fi Versions Of 2008
2008 was a year full of surprises. And by that, I am of course referring to the huge number of unplanned pregnancies that graced those twelve calendar pages. But when we weren't busy accidentally creating human life, we were busy foiling past generations' expectations of us. From film, to books, to video games, to decorative diner placemats, every manner of media had to have their say about what the people of 2008 would be doing with their time. Well, they were all wrong, and here are the wrongest of the bunch: 8 stories set in the "futuristic" year of 2008 that completely dropped the proverbial ball.
President Six-Pack

The Source:

The 1955 Isaac Asimov short story Franchise.
The Prediction:

In the futuristic year of 2008, a supercomputer named Multivac will lead our proud electronic democracy by selecting the most demographically representative U.S. citizen, asking them some questions, and using the information to select the next President.

Accuracy:

Not so hot.
2008 saw the election of an intelligent, well-spoken black man. For Obama to accurately represent the average of all American citizens, he'd have to gain about fifty pounds, take a few knocks to the head, and get Mexican citizenship. Add to that the fact that we stopped naming computers "(fill in the blank)-vac" about the time the Beatles were roaming the earth, and you've proven once again that Asimov was little more than a doddering, irrelevant old codger. Besides, the idea of a voting machine asking you some vague questions and then telling you who's President is so 2004. I'm just waiting for Diebold to stop beating around the bush and declare itself Supreme Overlord in 2012.
They've Taken Our Freeedooom!

The Source:

The post-apocalyptic box office bomb

Doomsday.

The Prediction:

In the futuristic year of 2008, the plot of Escape From New York will have sex with the plot of Outbreak and Scotland will get quarantined from the rest of the world due to a plague (or at least, that's what we'll say). Then they'll almost immediately resort to the plot of Mad Max.
Accuracy:

About as accurate as John Bobbitt's urine stream after a couple of stiff drinks (too soon?). As evidenced by the tartan and cabers that litter our nation's beaches and clog our storm drains, the filthy Scots still roam free. My guess is we'll have to wait till Connery knocks off before we can put the fences up. I'm not saying we can't take him, I'm just saying, do we want to risk it? Meanwhile, the only deadly viral outbreaks that gained prominence this year were Bird Flu and that bee disease. And even if they both swept the globe, what's the real loss? Teaching our children about sex will become slightly more difficult (although you could easily use a donut and hot dog), and we won't get stung or shat on anymore. Although if all the bees were wiped out, it could lend some credence to the next prediction…
With Our Powers Combined

The Source:

The forward-thinking ecological sci-fi thriller Silent Running.
The Prediction:

In the futuristic year of 2008, all plant life on Earth has died out due to our gross ecological mismanagement, and the last remaining forests are being housed in giant space domes circling the rings of Saturn. Then we decide we didn't want them after all, and order them jettisoned from their moorings and detonated with nuclear charges (just to make sure they don't somehow survive, return to Earth, and seek revenge, I imagine).
Accuracy:

On par with Colonel Stauffenberg. First of all, our plant life hasn't entirely died out yet; we've still got several acacia groves, a sopping handful of plankton and a very lovely squash vine, thank you very much, it's just not producing this season. And as I feel I've made abundantly clear up to this point, in order for us to have gotten anything, let alone Biodome, to the rings of Saturn, we would have needed to launch it during the Trojan Wars. Give me Cool Runnings over this tripe any day. It may be equally far fetched, but at least John Candy's in it.
Suicide is Painless…And Affordable!

The Source:

My lover, my mother, that glistening God we mortals know as Futurama.
The Prediction:

According to some barely-glimpsed signage in Futurama's pilot episode, Stop N' Drop Suicide Booths not only exist legally by 2008, they are already considered "America's Favorite." Accuracy: In keeping with their later predictions that Pauly Shore will become a beloved actor and Coolio's face will be printed on our coins. Again, there have been technological limitations. We could probably
make a booth capable of killing someone and disposing of the body, but the Stop N' Drop level of luxury—eyes scooped out with melon ballers, a helpful, friendly automated voice control—are all beyond our means. Meanwhile, this country's medieval stance on the individual right to have a machine stab you in the gut keeps us from even making serious progress towards this lofty dream. The best we've got at the moment is Dr. Kevorkian, the crude biological equivalent. Normally I'd suggest a mass Krevorkian cloning project at this point, but apparently there's something wrong with that too. Sorry Futurama writers; it looks like the religious zealots won't let you have your citywide killing boxes.
Initiate Maximum Warp

The Source:

Larry Niven and Jerry Pournelle's novel The Mote in God's Eye.

The Prediction:

In the futuristic year of 2008, mankind makes the single greatest scientific breakthrough in its history when it perfects faster-than-light travel, sending Einstein spinning in his grave and countless generations of spacestronauts hurtling through the black void in search of aliens to impress.
Accuracy: Pretty abysmal. The fastest a space ship has ever moved, to date, is roughly 550,000 miles an hour, which, while fast enough to ensure that any potential road kill will be thoroughly smeared across the freeway in a bloody swath miles long, is still pitiful in the face of goddamn light , which averages 300 million miles an hour even when it's been drinking. Meanwhile, the most exciting scientific development this year was the construction of a giant underground tube for smashing stuff together, and even that was greeted by hordes of people claiming it was witchcraft that'd cause demons to emerge from the Underdark and devour us alive. Let's face facts: in the larger context of galactic civilization, we're the guys standing in the corner with no pants on clanking rocks together.
The Big Sleep

The Source:

Alan E. Nourse's 1957 novel Rocket to Limbo.
The Prediction:

Okay, so maybe mankind won't perfect faster than light travel by 2008. But what they will do is launch a ship into space towards the nearest star, and expect the doomed astronauts aboard to reproduce and live in their quarters for many generations while it makes its 350-year journey to Alpha Centauri. I mean, how can you go wrong with a prediction that assumes we're cold-hearted pricks?
Accuracy:

Shmaccuracy. Yes, predicting that it'll take a 2008 spaceship 350 years to travel the 4.37 light years to Alpha Centauri is slightly less ridiculous than imagining we'll be hitting Warp 1, but it still assumes a ship capable of traveling a minimum of four million miles an hour. As I may have already mentioned, that's about 8 times faster than the fastest human ship, which was a probe, not a giant space hotel with room and facilities enough to keep a little mini-civilization going and (presumably) not resorting to inbreeding. Although I still think the premise that we'd be willing to doom many generations of children to a cold, sterile life in a tin can hurtling through space in exchange for the slim possibility that they'd crash into a star is probably dead on.
Here We Go Again!
The Source:

Sentimental, teen-friendly TV show I've never seen, Dawson's Creek.

The Prediction:

In the vague recap of the series finale of Dawson's Creek my least interesting friend gave me over drinks and me telling him to shut up, I seem to remember that star James Van Der Beek (AKA Dawson, "The Daws" or "Dawes Butler") returns to his hometown in 2008 after becoming a successful television producer and creator of the fictional series The Creek, based on 60-minute segments of his life. This is extra meta, because the actual creator of Dawson's Creek based the show on his life, creating a never-ending Oroburos of schlocky crap.
Accuracy:

Only in the sense that we still breathe Oxygen. The last memorable thing James Van Der Beek did was play himself getting the shit beaten out of him in Jay and Silent Bob Strike Back. Since then, he's bounced around from sitcom guest appearance to sitcom guest appearance, most recently One Tree Hill, or Dawson's Creek: Remix. Meanwhile, 2008 primetime television is populated by counter-terrorists, smoke monsters, and spiritually conflicted robots from space. Any show based on a show we already watched ten years ago would have to under go some major changes. I'm thinking ice powers for Zoey, the fictional Dawson's Creek character I'm pretending to reference.
The Blue Bomber

The Source:

The original 1987 NES Mega Man.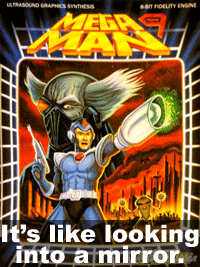 The Prediction:

In the futuristic year of 2008, battle robots with sophisticated powers like the ability to throw rocks and cut you, led by an evil scientist named after a cartoon coyote, will enslave a neon neo-Tokyo and do battle with a one handed, child-sized robot maid cum supersoldier in blue spandex who can't duck.

Accuracy:

I've never been to Tokyo, so I can't really speak to the accuracy of Mega Man's endless ladder towers and fan-powered clouds swarmed by flying teeth. Judging by some of the pictures I've seen online and my fathomless cultural ignorance, I'd believe it. But a robot that can't duck? Are you kidding me? Even Aibos can kind of hunker down, and they're barely on the teetering edge of the uncanny valley. If there's one thing we can be sure of, it's that the Japanese wouldn't let a robot supersoldier step foot out the factory door without six hands, an equal number of depleted uranium-spitting miniguns, and an integrated all-region Toshiba DVD player.
---
When not taking people too seriously, Michael is head writer for and co-founder of Those Aren't Muskets!
Scroll down for the next article