Jack to Heath: "Told Ya So! (Dead Dumb Ass)"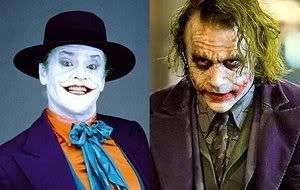 It's refreshing to know that in this time of sensitive mourning for Heath Ledger, Jack Nicholson is still capable of behaving like a jackass. By way of background, it should be noted that Nicholson was reportedly "furious" that Ledger, and not he, was asked to play The Joker. I'm assuming Nicholson envisioned a Dark Knight where The Joker battled Batman's gadgets and Judo know-how with colostomy bags, an enlarged prostate, and sharpened pills of Viagara. But on to more recent events: The movie legend was dining at the Wolseley restaurant in London when a photographer told him about Heath's passing.

Nicholson ... replied "I warned him" then later said "I told him so". Ultimately, it was clarified that Jack was referring to his experiences with the sleeping pill Ambien --- a drug that some speculate contributed to Ledger's death. Nevertheless, before that further information was divulged, here were the top 5 guess as to what Jack told Heath: Warned him never to leave the number of an anorexic troll doll as his emergency contact. Suggested that 10 Things I Hate About You was a better title than Shrew-Tamin 2: New Skool Rulz Advised that premature Nixon-style male pattern baldness will not prevent you from getting quality tail as long as you're rich and famous. Suggested that when you play the Joker, everyone will say you stole the show from Batman, mostly because there's only so much acting Michael Keaton or Christian Bale can do with nothing more than an exposed jawline. During the filming of Brokeback Mountain Jack suggested the line "I wish I knew how to quit you" in place of "man, I loves me some gay cowboy sex."
---
Gladstone writes for Cracked and others. Go to Wayne Gladstone Lives in Maine to see all his published stuff, links to his other worthless endeavors, and his full name and state of residence.
Scroll down for the next article