How A TMNT Villain (Maybe) Became A Nintendo Boss
Here at Cracked, we like to deal with world-changing, philosophical questions. What is the meaning of life? Is death the end? What's the deal with Krang from Teenage Mutant Ninja Turtles? As you can probably tell from the title of this article, one of these questions is far more important than the others.
The saga of the screeching brain that lives in the stomach of an obese bald robot in a Speedo is a mysterious one. But some answers can be found in what seems to be a totally different series in a completely different medium: Metroid. So strap on your Varia Suit and order a bizarrely topped pizza, folks. Here's why Krang and Mother Brain, the space-pirate-controlling asshole from Metroid, are the same character.
They Have The Same Henchmen
The Mother Brain's henchmen have one of the coolest titles ever: SPACE PIRATES. It combines the ruthlessness and danger of pirates with the "Oh shiiiiiiiiiit!" of space. Even more badass than their name, however, is their appearance: They're basically gigantic praying mantises who can shoot lasers.

They also excel at climbing walls and eating their mates.
Now, I know what you're thinking. "Krang's henchmen are rock monsters, which don't exist in Metroid, just as Mother Brain's space pirates don't exist in Dimension X!" Well, sir, madam, or angered space pirate, I'm afraid you're wrong on both counts.
First of all, Krang does have a set of swashbuckling bug-people to do his dirty work. They're called alien hunters, and they should look extremely familiar to any Metroid veteran. Take a gander at Buzzrok here:

The packaging presents them as "Alien Hunters," which doesn't exactly hurt the theory.
Just like Mother Brain, Krang has an army of space-faring, laser-powered mantis creatures. We don't see them much in the cartoons, but that just means he isn't in the habit of sending them to Earth or inviting them to meetings with the Shred-man. They have more important things to do, like guard Metroids. Here's another video, for comparison:
As for the rock soldiers, well, there's an explanation for that too. You see, in Metroid Prime, we discover that it's quite easy for the space pirates to make rock monsters. All they need is energy. Thardus, the rock monster boss from Phendrana Drifts, is created when space pirates mix Phazon Energy with a bunch of rocks.
So we know that Phazon (a crazy, magnetic energy source/organism) is needed to create Thardus, and we also know that Phazon does not exist on Zebes (the Metroid planet). However, this doesn't mean that smaller rock monsters could not be created with similar methods, using similar amounts of Metroid energy.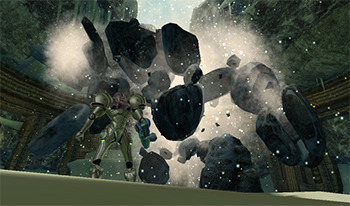 This one was created with kitty litter and a Red Bull.
What I'm saying is that, in the Metroid-verse, people can make rock monsters with energy, and the Mother Brain just so happens to have a ton of energy from farming the game's eponymous space pests. So it would stand to reason that he has access to disposable rock monsters.
Rock monsters are disposable, so Mother Brain can hand them out to Shredder, who sends them out to chase Neutrinos, or whatever. If your job opening requires "Is able to attack in a straightforward pattern and is a rock monster," a rock monster is a fantastic fit. And in the TMNT universe, that's a requirement in every job opening.

Pretty sure there's a whole Metallica album about this.
Space pirates, who have been working with Krang from the very beginning, however, get the important job of stealing Metroids, guarding Metroids, and being slaughtered by the thousands when Samus comes along. That's why their presence in the TMNT franchise is scarcer than power-bombs in Maridia. Every minute, an average of six space pirates are evaporated. If you have a friend who wants to be a space pirate, pass this message along. Help your community.
So Krang and Mother Brain have the same rare profile, live in very similar places, and use the same henchmen. If they're the same criminal mastermind, that would also explain why ...
Scroll down for the next article