Dancing Bears, The Future of Video Games and Time Magazine Sucks at Lists: The Daily Nooner (EST)!
Awesome Video Of The Day Colin's Bear Animation I watched this video like ten times before I realized I should turn the sound on. I have no idea how many times I watched it after that, but I know it's still every bit as kickass as it was the first time. Hang on - I'm gonna go watch it again. Yup - still rules. According to the "About This Video" section:
"This video was created by a third year Game Development student at UOIT. This is the final animation for an Animation Arts class. My friend Colin used all the techniques that were taught by this professor. And as you can see, he made the best animation with what was taught.
I know this was an attempt to throw some sass at a less-than-stellar professor, but considering the current state of video games I think the industry should actually give this video some thought. If I had $50 and a choice between this and yet another boring WWII shooter, I have a pretty good idea of where my money would go: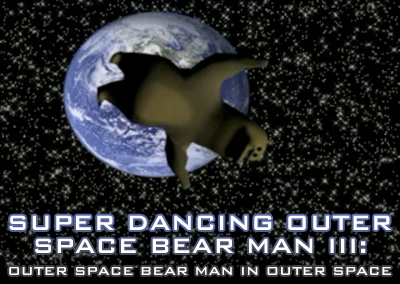 ---
With 2008 just around the corner, the web is abuzz with end-of-the-year lists on just about every topic you can think of. Whether it's news stories, celebrity gossip, gadgets, or films, it seems like pretty much everyone with an internet connection and a pulse has something definitive to say about some aspect of 2007. I thought about doing a list myself, but I decided that would be too much work. Which brings us to this week's theme: end-of-the-year best-of lists. Just in a general sort of way.
2007: The Year of the List I'm in no position to protest if Time Magazine wants to do a countdown of the Top 10 Man-Made Disasters of 2007, but isn't it sort of a cop-out to give the #1 spot to global warming? I don't know about you guys, but when I think of disasters, I think of things that are swift and spectacular, like the Great Molasses Flood, or that one time that Fergalicious chick peed her pants onstage. Global warming is certainly no picnic, but can it really be considered the #1 man-made disaster of 2007 just because everyone happens to be talking about it lately? They came up with 9 other valid entries - couldn't they have found some sort of minor oil spill to fill in the gaps or something? I know it's only Time Magazine (they're no Cracked, obviously), but c'mon, guys: maybe it's Time to step your game up. See what I did there? I used the name of the magazine in a different context to change its meaning, and then I threw in a moderately well-known hip-hop idiom to make it sound more casual. That's why they pay me to do this shit. I know all these cool tricks.