Why This Election Proves Politics Are About To Get Weird
The iPhone was a weird new invention when Barack Obama was first running for president in 2007. MySpace utterly dominated social media; no one had heard of Twitter. Netflix was a company that delivered DVDs by mail. The box office was dominated by a Marvel franchise, a bombastic Zack Snyder movie, and a movie about somebody called Jason Bourne. It was a simpler time.
When you see how radically the landscape has changed since then -- and how radically it seems to be changing on a week-to-week basis now -- it's actually hard to guess what the presidential campaign for 2024 will look like. But, having spent these last two weeks on the ground at both party conventions, I'm ready to give it a shot:
Voters Will Be More About Single Issues (And Hobbies) Than Parties
With the exception of the small but vocal Never Trump movement, the vast majority of Republicans either fell in line behind Trump this year or, like the Bushes, quietly excused themselves.

One of them was pretty quiet even before he excused himself.
The Democrats at the DNC displayed much less unity, and the word "less" in that sentence is actually a synonym for "fucking none at all." Or, at least, that was the view from outside; many of Bernie Sanders' 1,900 delegates refused his calls to back Hillary Clinton and, instead, walked out of the convention and held a strike in the nearby press tent. You know all of those "HILL-AR-Y" chants that kept breaking out during her acceptance speech last night? Those were delegates covering up Bernie chants.
When I sat down and actually talked to Bernie's delegates (dozens of them) about why they were so pissed, I expected to hear a lot about the recent Wikileaks release of thousands of controversial emails from inside the Democratic National Committee. But most folks felt like Brad Batt of Tennessee. "The DNC emails didn't really change my opinion," he said. "It was already pretty clear the DNC supported Hillary."
Instead, their fury came from the fact that the Democratic party hadn't promised action on more of the issues Senator Sanders' campaigned on. Some of them, like "Bernie Or Bust" founder Victor Tiffany, actually felt like Trump might be better for their cause. "If it's Trump, we get to take a break for a few months because we don't have to fight the ."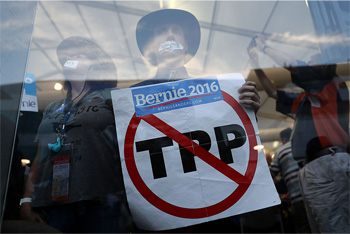 If they back up their words with votes, this will be a pretty huge change.
It's hard to overstate how important party loyalty has always been in American politics -- the "winner take all" nature of presidential elections (thanks to the electoral college) means you either joined the group that got you to 50 percent or got tossed aside like a Taco Bell wrapper flung from a speeding car on the highway. But today it seems like young and engaged people are more loyal to specific issues than a party. Look around; if there's anything social media is good at, it's forming people into tightly packed groups based around one idea they consider paramount ("Anime should be subtitled, not dubbed!")
Sure, there have always been so-called "single-issue voters" -- enough Republicans factor a hobby into their voting that the tchotchke-sellers outside the RNC did a brisk business in Second Amendment flags:
But, social media now lets everyone gather, organize, and form their own little versions of the gun lobby. Before the conventions, I interviewed Grover Norquist, a veteran political advocate for the Republican party. He was bullish on the future of Hobby Politics and brought up vaping as a hill many young Republicans would pick to die (or at least vote) on in the near future. "All the left wing groups want to ban vaping," he told me, "for the same reason baptists want to ban dancing."
Grover thinks Republicans may be able to counter some of the demographic advantages the Democratic party has among millennials and minorities by collecting home-schooled kids, concealed handgun carriers ("Today there are 13 million Americans with an active conceal carry permit ... that's 5.5 percent of the population"), and vapists -- people who don't think of themselves as "small government" but still have one personal issue they want to keep free from bureaucratic meddling.
It's worth noting that vaping was everywhere at the RNC and banned at the DNC.

"First, they came for the vapers, and I was not a vaper, so I said nothing ... "
Thanks to Facebook, Tumblr, Twitter, and the rest, these niche issues can drive thriving communities, whether that issue is the Trans-Pacific Partnership (a sprawling proposed trade agreement that both parties now seem to hate) or the belief that vaccines cause autism. It's kind of like how you never heard of a furry convention until the internet came along and gave those guys an easy way to find each other. These "single issue" voters ("We demand the right to drink unpasteurized milk!") can now join together and form blocs that demand a seat at the table. If they feel rejected, they can tip an election.
The social media era also means that, in the future ...
Scroll down for the next article