Now, imagine Elsa from Frozen, in her Ice Palace.
Walt Disney
Hold it innnnnnnnnnnn, hold it innnnnnnnnnnn!
Does she have to go off and piss in the snow outside? Does she have a huge yellow dome of frozen piss somewhere she just keeps adding to? Or is she so pristine and perfect in the sparkling evening gown she wears around the house that you can't picture any piss scenario? Apply the same logic to the Elves in Lord Of The Rings -- is it hard to imagine Legolas taking a shit in the woods and then burying it after wiping his ass with some leaves or a passing rodent?
In fact, what kind of toilets do they have in Rivendell? Everything in that place looks like a cathedral ...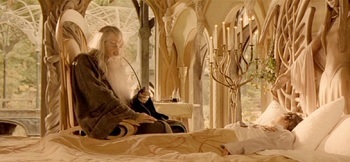 New Line Cinema
Hell, where does Gandalf even dump his pipe ash?
How bad would Frodo have felt if, while a guest there, he clogged the toilet and caused it to back up onto the floor? You know that place wasn't equipped for Hobbit shits. What do Elven shits even look like?
Now imagine shitting in Asgard, from the Thor universe, and imagine every toilet looks exactly like this:
Marvel Studios
Yes, with the honor guard included.
Would you find it hard to go? Speaking of superheroes, what about Superman? He eats and drinks; what's his poop situation?
I'm not joking here -- you'll honestly be surprised at how often movie characters and settings fail the Shit Test. The creatures in the Monsters, Inc. universe don't seem to have assholes, no matter where I freeze-frame the DVDs, but they have the exact same toilets humans do (despite the fact that at least one of them is a giant lizard).
Pixar