6 Racist Things That 'Non-Racist' People Always Say
According to the news cycle, there are a few things you can count on happening every day. Somebody out there is angry about a reboot of a beloved childhood franchise, somebody out there is definitely masturbating in a McDonald's drive-thru, and somebody is (correctly) asking Americans to talk about diversity. Hopefully, we're all taking that last one seriously.
And if we aren't taking discussions about diversity seriously, then it might be because our eyes are glazed over from seeing some of the same bullshit arguments over and over again. So let's take a step back and have a conversation about the conversation itself.
Here are six things everyone needs to stop word-vomiting in discussions about diversity.
"This Is About The Sanctity Of Something!"
Does your heart get angry when a beloved character gets a race or sex change in a movie adaptation? Do you think the sex and race of a character are sacred? Like, "Holy Word of God" sacred? If so, are you five years old?
You're probably used to laughing at hypocritical religious types, like the proprietors of a bakery who refused to serve gay couples, but had no problem celebrating dog weddings. Apparently, Jesus' final commandment was "Love one another as I have loved you, and as my two dogs Buster and Miss Thang have loved each other since their wedding day. Amen."
But at least that bakery was taking a stand about a real religious tenet, and not a sliver of pop culture. Unless we've decided fandoms are religions now, no one should be arguing that a character's race, sex, hair color, or anything is sacred. They're FICTIONAL CHARACTERS.

Just because her name is Mary doesn't mean you should worship her as such.
A lot of people are going to tell you that their biggest problem with the alleged Mary Jane casting choice in the new Spider-Man movie isn't about race, but simply that the character has to be a redhead. And yet these same comic experts aren't going to have a problem with how Mary Jane and Peter should already be married in the Civil War timeline, or that they are supposed to meet in college and not high school, or anything that has to do with her internal character or plotline. Forget everything else; it's the hair color that's sacred.

"Oh, what does he know?!"
When Michael B. Jordan was cast in Fantastic Four, the media and fans were more focused on reporting racist tweets than the sheer audacity of turning a movie about a stretchy man and guy made of rocks into something gritty. While we're obsessed with the "accuracy" of the races, shapes, and colors of superhero movie characters ... we don't seem to give a humping shit about the actual stories.
Apparently, "sanctity" only applies to hot-button or superficial details, especially details that grab headlines. Speaking of Ghostbusters ...
For the record, I objected to the 2016 Ghostbusters reboot long before there was even a trailer. This is why I sympathize heavily with anyone hand-waved as a "whiny manchild" for not liking the trailer. But I still can't get past the strangely aggressive, often derogatory response the trailer received ...

Granted, every trailer nowadays sucks just as bad, but still ...
What confuses me isn't that everyone hated it ... but that we never got this same level of outrage for the equally shittastic Terminator Genisys or Star Trek Beyond teasers. Leslie Jones, an actress who came the closest to embodying the casual tone of the originals, somehow got the brunt of criticism over the reboot. It was as if the mob raging about Ghostbusters being another soulless reboot didn't truly care about the principle of that sentiment.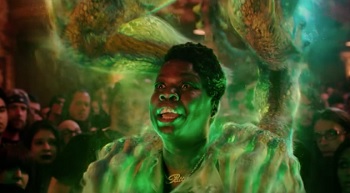 Who would've thought this ghost was the nicest monster she'd deal with?
And on the flip side, there were countless tweets and Jezebel comments from people vowing to see the film solely to counteract the first group -- suddenly making a silly movie from my childhood a strange culture war over the holiness of ghost blowjobs and engorged demon mascots. GHOST BLOWJOBS ARE NOT HOLY.
Scroll down for the next article