5 Absurdly Unapologetic Hollywood Sellouts
Product placements are the rectal catheters of popular entertainment. They only bring pleasure to jaded corporate types in suits, but there occasionally comes a time when you just don't have a choice but to use them. There are countless movies, TV shows, and games that only exist because they spread wide and let companies shove their products inside them. In some cases, it was kind of worth it. But other times, the whole process was handled so clumsily that everyone just ended up with shit on their hands. Incidentally, this column is brought to you by Rhino Hide toilet paper.
Now then, here are a few examples of what happens when product placement goes too far.
Degree Deodorant Saves The World From A Star In Eureka
There was a time when I thought Syfy's Eureka could actually be the new Star Trek. The show told the story of a secret town populated by geniuses trying to change the world with scientific MacGuffins that occasionally technobabbled and became doomsday plot devices. But in the end, the day was always saved by human ingenuity. The show just had this inspiring Star Trek-esque hope for our species that you sadly don't see on TV a lot anymore. Sadlier, you also didn't see it during Eureka's third season.
After two seasons of good reviews but average ratings, the show had to get a corporate sponsor to stay on the air. What they didn't have to do was make it less subtle than a kick in the teeth, but life is full of such little surprises.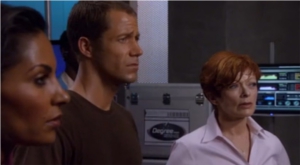 It's like a mirror universe version of Where's Waldo?
Initially, I honestly thought Degree was something they made up for the show, because a) the company is known as Rexona in Europe, and b) that is one dumbass name for a line of deodorants. Also, c) (for "See here, you little shits") it just didn't occur to me that Eureka could ever sell out like that. I have nothing against advertisements, especially if it's for a quality product like, say, Rhino Hide.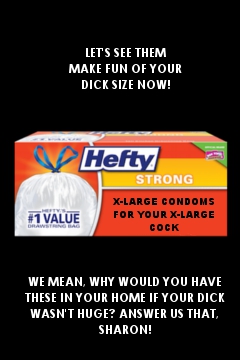 But Degree didn't just write its name all over Eureka. They were also incorporated directly into the plot, first by becoming the official in-universe sponsor of the company that oversees the fictional town on the show, and then by having their product save the day in one episode. This happened in "Here Come The Suns," when someone created a new sun over Eureka, and the main characters dealt with it by using an experimental deodorant that keeps you cool even in extreme temperatures.

"Do you know what this means? Now, non-insane people will be able to live in Florida!"
It was actually kind of genius. By pairing themselves with a sci-fi series, Degree could show commercials where a guy shrugs off a hit from a flamethrower, and then say "This is what our product basically feels like!" without getting dick-slapped for false advertising. But it was also cynical as hell.
The point of Eureka was always to celebrate science for science's sake, but when season three came around, that message changed to "Well, you know, corporate profits matter too." The only way for that sentiment to sound less Star Trek-y would be for Captain Kirk to deliver it after being commended for never breaking a single Starfleet regulation.
Scroll down for the next article