5 Character Names That Give Away Movie Plots
Names can influence our lives in profound and amazing ways. They can determine how much money we make or how attractive we appear to other people, while the more unpronounceable ones can even pose a serious choking hazard to children under 3 and the elderly. (Hope you feel better soon, Grandpa.)
But when it comes to fictional names, their main power is being able to spoil your favorite films harder and faster than "Rosebud McItwashissled." That's because screenwriters absolutely love putting tiny clues into the names of movie characters that flat out tell you what's going to happen with the plot, like how ...
The Name of Nicolas Cage's Character in Face/Off Revealed How He Was Going to Die
In the 1997 installment of John Woo's dove fetish infinite-logy, commonly known as Face/Off, Nicolas Cage plays insane terrorist Castor Troy, who plants a bomb somewhere in Los Angeles. Then, to make sure no one can get any information about it from him, he strategically almost dies and falls into a coma. This leaves FBI Special Agent Sean Archer (John Travolta) with no choice but to have Troy's face transplanted onto him so he can trick Castor's brother, Pollux, into unwittingly giving up the device's location.
What follows is a typical action movie roller coaster: Things go awry when Troy wakes up, staples Archer's face to himself, and convinces everyone that he's the real thing, then the fairly awry things go even more awry when the original Archer finds and murders his evil doppelganger with a spear gun.
Why We Should Have Seen It Coming:
Wait, "Pollux"? That can't be a real name. That sounds more like a rejected bee-themed supervillain from Captain Planet. In reality, the Troys' monikers are a reference to Castor and Pollux, two brothers from Greek mythology who make up the Gemini constellation, which is Latin for "twins." In the movie, Troy and Archer sort of become each other's twin, and suddenly, BAM, you're in John Woo's symbolism land!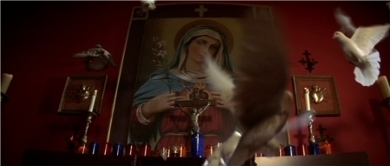 Castor and Pollux were also brothers of Helen of Troy and the protectors of sailors, which featured prominently in the movie finale when Archer chased Troy in a speedboat.
More importantly, though, according to the ancient Greeks, Castor met his end after the Gemini bros got into a feud with their cousins, Lynceus and Idas, which ultimately led to Idas killing Castor ... by impaling him with a spear. Then, a few centuries later, John Woo took that idea, added "gun" to the end of it, and had his ending to Face/Off, which the more observant audience members could've guessed the second the name "Castor Troy" was first mentioned in the film.
Does this ruin Face/Off? No, mainly because it's scientifically impossible to ruin anything that crazy and awesome. There is reality and there is Face/Off, and never the two shall meet.
Scroll down for the next article