5 Comic Characters That Need An R-Rating More Than Venom
After the success of R-rated superhero movies Deadpool and Logan, studios are finally realizing that comic books are a medium, not a genre, and that some arcs require more adult tellings to do their stories justice. Just kidding! They made a bunch of money on those two and are now churning out R-rated versions of every piece of IP they own with all the insight of a dog humping a stuffed animal.
For example, Sony is developing its upcoming Venom movie to be R-rated despite the fact that the titular Venom is about as edgy and violent as a flannel shirt. Venom is essentially evil Spider-Man, but has become such a tame villain that writer David Michelinie felt the need to create another villain by taking Venom and making him more murder-ey. Thus Carnage was born, whom we will discuss later. So, by giving Venom an R-rated movie, execs aren't freeing up a director with a creative vision that demands the freedom to be explicit. They're just saying, "He's gonna punch people hard. And you're gonna hear the word 'Fuck' a lot. Please like us, high schoolers of America."
Some comic adaptations need the flexibility for graphic violence, sexual content and naughty words that would make it inappropriate for all audiences. On the other hand, we don't need to see a Mighty Mouse film that features a brutal prison shanking. Unfortunately, an R-rating isn't a perfect movie cheat code that will advance you straight to the "Become Coke-Snorting Millionaires" final level. You have to weigh the merits of each adaptation based on its source material. Fortunately, we're here to help, with some handy examples of when you should slap that R-rating on your film like butter on murderpancakes.
Deadpool's One Weakness Is Standards And Practices
The movie that started the current wave of "People like the costume guys when they say the fuck word" is Deadpool. Producer and star Ryan Reynolds fought for the project to get an R because nothing else would really fit the source material. Deadpool is a dude that breaks the fourth wall even after he's been decapitated. Making flippant remarks and dirty jokes in the middle of gruesome violence is kind of his whole thing.
A big part of the fun of Deadpool is how relatably crass he is. He literally brings guns to knife fights (as any one of us would do) and in a world of grown men yelling things like "Argh!", he's the one yelling "Fuck! My fucking eye!" If you took all that away, you'd end up with just a sarcastic, reluctant superhero that appeals to no one because he's being adapted to appeal to everyone. And nobody wants to see Hancock again.
Logan Proved That Sometimes Fans Know What They Want
We think a good rule of thumb is that if your main character's main weapon is a blade, you should consider allowing yourself into R-territory. When your main character is goddamn indestructible and has terrifyingly sharp knives embedded in his skeleton, some graphic violence may be difficult to avoid.
The X-Men films make an admirable effort to hide the fact that their main character was brutally claw-murdering bad guys and it totally worked ...
... For a bit. But after sixteen years for Wolverine running up to people and shoving his claws in them or the camera cutting away after a vague swipe at a henchman's entire body, fans begged for a bloodier Wolverine movie.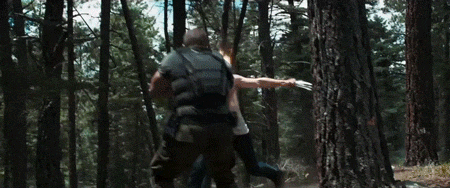 It's even grosser when you realize he's going to retract all that claw brain juice back into his arms.

As Logan makes it repeatedly clear, there are lots of ways Wolverine can incapacitate a foe but almost none of them are bloodless. In Logan, a character that can, with a flick of his wrist, take off arms, legs and heads is doing what he'd probably logically do in a fight: just amputate whatever appendage got within claw's reach. Of course, not every movie has to have brutally realistic fight scenes but Logan was a nice way to say "Thank you fans for sitting through nine bloodless X-Men films."

Weirdos Like Arcade Need To Insanely Murder

Unless we're talking about a very fucked up or inept hero, it's actually the villain of a movie that determines the level of violence we're going to see. You can make a G-rated Agent Starling movie. Hell, it could be a romcom. But you can't make a Hannibal Lecter one.

A lot of villains would require an R to do properly because without it, they're just lame fetishists. Take Arcade, for example. Arcade runs a theme park of death called, appropriately, Murderworld. It's a lot like The Most Dangerous Game, but with insanely expensive snacks.

The water rides are just all urine.

In order for an idea that wacky to have any real clout on screen, we have to see in graphic detail that the creepily campy traps he's created are actually nasty business. Otherwise, it will come off as the X-Men fighting a lamer Jigsaw.

Constrained by PG-13 guidelines, we'd be subjected to an entire movie of "TRY TO DODGE MY LARGE SPIKED BALL, SPIDER-MAN" or "HAHA, AVENGERS. CAN YOU ESCAPE MY ... OTHER LARGE SPIKED BALL?!?" With a place called Murderworld, the audience is going to want, well, some Murder, not just the threat of creepy knockoff Spongebob prizes.

Characters Like Carnage and The Spectre Are R-Rated

Some characters require a good deal of carnage to be shown onscreen because carnage is integral to their character. Characters like, we don't know ... Carnage? We mentioned earlier that at some point, Marvel decided that Venom, the evil version of Spider-Man, needed an evil version. Thus, Carnage was born. A little backstory:

From his early childhood, Cletus Kasady enjoyed murder in all its forms: from pushing a young classmate in front of a bus to torturing his mother's dog with a drill. After a whole lot of serial killings, Venom's offspring merged with Cletus to become Carnage, whose distinctive power is the ability to transform his body into large, sharp weapons. As you might imagine, that lined up nicely with Cletus' interests in indiscriminately cutting living things open and they bonded quickly. Carnage basically has the powers of a T1000 and the logic of a sentient torture dungeon.

Yes, he was created in the mid-90s, why do you ask?

The astute reader might not need help connecting the dots as to why a Carnage movie would necessitate an R-rating: in a PG-13 movie, there's nothing for him to do. You'd have to limit him to 3 minutes of screen time because that's roughly all the time he spends not slicing people open. It would just be a shot of him taking a bathroom break in a gore-filled apartment building where he's murdered everyone.

The same goes for certain heroes, like The Spectre. The Spectre was originally a murdered cop sent back to the land of the living to mete out justice. And by "justice" we mean biblically horrific punishments. Turn you into a skeleton with one touch? Done. Make a vending machine come to life and painstakingly devour a burglar? Done. Force the buttons of your shirt through your heart? Done.

"Oh, shit. I should have started with their dicks ... Ah, well, next time."

There are more than enough "My powers are vague, but trust me, I am powerful" characters to keep PG-13 movies stocked for decades to come. Characters like The Spectre and Carnage are defined less by their powers than by the insanely brutal ways they choose to interact with the world. Forcing them into a PG-13 framework is like making a hammer out of Styrofoam. Sure, it'll look like what you wanted but you're only going to get fifteen seconds into your project before you realize that it's going nowhere.

The Sentry Is The MPAA's Idea Of "Adult"

The Sentry's origin story absolutely necessitates an R-rating but not for any of the violent or cuss-dependent reasons above. The Sentry is an incredibly powerful superhero with a grab bag of the usual powers, but he gained them because he was a drug addict who stole super serum thinking it would get him high. That sounds pretty tame compared to, say, a child watching his parents get murdered in an alley but not to the MPAA: we've seen plenty of kid-friendly Batman origin stories but explicit drug abuse is pretty much guaranteed to land you an R.

"Meth: Not Even Once. Serum: Why Not? You Never Know ..."

The Hulk can kick a guy so hard he shatters every bone in his body but the redemptive story of an addict who turns his life around would be considered too taboo for anyone under 17. That's a bummer because The Sentry is a pretty inventive character and a cool allegory for -- spoiler alert -- being your own worst enemy. That isn't so much a spoiler about The Sentry, a movie that will probably never get made, and more a spoiler alert for the nature of existence.

Oh and the MPAA feels the same way about nudity as they do about drug abuse: Boobs are almost always R-rated here, even though they are rated Shampoo Commercial in France. Of all the dark and adult themes in Watchmen, the reason it was destined for an R-rating was the inevitability of Dr. Manhattan's giant blue wang. That movie opens with an anti-hero rapist getting tossed out of a twenty story window, but what really sold the R-rating was the presence of radioactive dong.

Aaron Kheifets is not secretly a crime fighter. He really just spends that much time composing his tweets. Daniel has a blog.
Scroll down for the next article