5 Famous Franchises Whose Best Installments Were Animated
The great thing about animation is that it often fills the holes left by traditional filmmaking. That sentence was originally meant to be a segue into the topic of Japanese cartoon porn (I mean, the filling of holes bit was just perfect for it) but Cracked has begged/threatened me to stop pitching them that idea. Still, I felt that it was a solid opening so I eventually reworked the whole thing into a column about animated movies and shows that have fixed all the problems of famous live-action franchises. For example ...
WARNING: SPOILERS AHEAD!
Batman: Under The Red Hood Finally Gives Us A Scary, Human Batman
Like most Batman fans, I used to not give a shit about Batman himself and instead was attracted to the Bat-universe because of its badass bad guys. That's why I was so surprised by Under the Red Hood (2010), a direct-to-video animated movie which managed to make Batman look fascinating and terrifying.
"Why would you want Batman to be scary?!" -- Schumacher, Nolan, Snyder
The movie starts off with the Joker straight-up murdering Jason Todd, the second Robin, who is later revived by Ra's al Ghul. Driven by revenge and anger, Jason then tries to become the new crime boss of Gotham, which finally culminates in a stand-off between him and Batsy:
During the confrontation, Jason asks Batman why he didn't execute the Joker after the clown killed him, to which Batman replies, "All I've ever wanted to do is kill him. A day doesn't go by I don't think about subjecting him to every horrendous torture he's dealt out to others, and then end him." The idea of Batman, a man with a genius IQ and Olympic-level physique, fantasizing about torturing someone to death is one of scariest things ever.
Burton's Batman was definitely creepy and all, but he was ultimately an unhinged psycho. Under the Red Hood, though, makes Batman look human, and then twists that humanity into something truly dark. There's even an earlier scene when the Joker talks about how Batman found him after Jason's murder, and put him in a body cast for six months. I've envisioned this scene many times and still can't decide which version is scarier: Batman going all berserk on the Joker, or calmly and methodically breaking every bone in his body.
Although, in my imagination, the Joker doesn't have Jay Leno's chin.
That's why I totally believe animated Batman when he says that if he ever killed, he "will never come back." But Jason doesn't get it. To him, Batman was like a father, but if his death didn't push Batman over the edge, does it mean Bruce never saw him as a son? Of course not. It's just more complicated than that. Then again most normal fathers wouldn't allow their son to leave the house in Speedos instead of actual pants ...
Speaking of family: Under the Red Hood thankfully doesn't make you sit through yet another version of the Waynes getting killed, almost as if Batman was a pop culture icon whose origin is known by pretty much everyone. If that's still not enough for you, then consider this: The movie stars Jensen Ackles from Supernatural as Jason, Neil Patrick Harris as Nightwing, Jason Isaacs as Ra's al Ghul, and John DiMaggio (Bender from Futurama) as a murder-happy Joker.
"Murder is such an ugly word. I prefer extermination. The 'x' makes it sound cool."
All-Star Superman Embraces EVERY SINGLE Aspect Of Superman
About 90 percent of Superman's history is him shooting laser plot conveniences at Doctor Who rejects in order to help Jimmy Olsen after he's had his brain swapped with a chocolate Danish, or something.
That's why more recent Superman movies are so crazy-violent. It's to make you forget about the character's silly past. It's also why they could never hold a super-candle to the 2011 straight-to-DVD animated movie All-Star Superman, which embraces all of Sups' silliness.
Why it gave Superman collagen hooker lips remains unclear.
The movie literally opens with Lex Luthor trying to sabotage the sun, spliced with scenes of Jimmy Olsen wearing a dress. Later, the movie also shows Superman battling an inter-dimensional being called the "Ultra-Sphinx," and introduces things like his "time telescope," which allows him to observe his descendants in the 84th century, or his pet space creature called a "Sun Eater." What does Superman feed him? Suns, of course. Suns that he makes on his cosmic anvil.
Duh.
All of those scenes sound silly but they serve a valid purpose because they showcase Superman's hope, courage, and kindness. For example, instead of punching the Ultra-Sphinx, he outsmarts him, and the reason why he uses his future telescope is to take comfort in the fact that even thousands of years in the future SOMEONE is protecting Earth. As for the Sun Eater, which is basically a Lovecraftian monster, Superman treats it like a lost puppy, and it's the most adorable thing ever.
That's when you realize the truth about the character. Superman is a God, yes, but he is human first, and he represents the absolute best of humanity. Every other Superman movie talked about it but All-Star actually SHOWED it during those scenes. And by doing so, it finally gave Lex Luthor some solid supervillain motivation.
And his own collagen hooker lips.
In All-Star, Luthor doesn't hate Superman because he gets in the way of his illegal land deal or whatever. He hates Superman because of his "sickening, inhuman perfection." To Luthor, all that Superman's light does is illuminate the flaws and shortcomings of humanity. As he says himself: "His existence diminishes you, diminishes us all ... With him around, you're a parody of a man, a dullard, a cripple."
The absolute best part of the movie is when Luthor exercises and brags to Clark about how his muscles are the product of hard work, unlike Superman's. But what he is really saying is that he is afraid of humanity's insignificance when compared to the God-like Kryptonian, and that he wants to prove that humans have the capacity to surpass him. That is some deep philosophical shit for a cartoon where two characters run around with robot penises on their heads.
No hooker lips on this guy, though.
Hulk Vs. Pits Hulk Against Wolverine AND Deadpool
The Hulk is like a block of cheese ... in the sense that neither is main course material. You can't just plop them on the table and tell people to dig in, though that is what Ang Lee's and Edward Norton's Hulk did. Unsurprisingly, the overall reaction to them was, "Ugh" and "Meh," respectively. The truth is, Hulk only really works as a supporting character. The Avengers knew it, and their Hulk is probably the best version of the character so far; in a live-action film, at least.
But if we're also including animation, then Part I of Hulk Vs., a 2009 Marvel animated special, is without a doubt the best portrayal of the Angry Green Giant ever.
"Hulk will see you in your nightmares."
See, the Avengers are all heroes, while Bruce Banner isn't. He's a werewolf, basically. Or Dr. Jekyll and Mr. Hyde. A tragic figure who, against his will, occasionally turns into a monster. Oh sure, there are plenty of comics where Hulk is brave, noble, and heroic. There is also a Japanese comic book where he cries all the time. What I'm getting at is that fuck those interpretations. The Hulk is meant to be a monster, and in Hulk Vs. he totally is.
The movie portrays him as an angry, violent killing machine. This Hulk doesn't discern between friend and foe. He just destroys, which is why the animated Banner is a mentally broken, shivering wreck constantly in fear of the living weapon that dwells within him.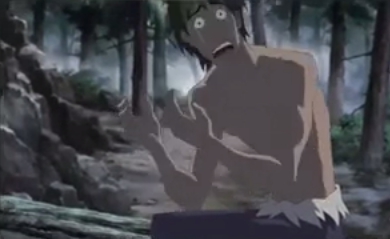 Have you tried pot? Fight green with green!
Speaking of living weapons. The full title of Part I of Hulk Vs. is Hulk Vs. Wolverine and it's Logan who actually gets the most screen time in the movie. Hulk is really only there to let his more complex co-star shine, as he should but as he will never, EVER do in a live-action movie.
This is the biggest advantage that Hulk Vs. has over any other Hulk movie. Sadly, we will never see Hugh Jackman carving up Mark Ruffalo's Hulk like an aforementioned block of cheese because the live-action film rights to their characters are owned by different companies. Hulk Vs. doesn't have that problem, though.
Nor does it give a fuck about its supposed PG-13 rating.
What Hulk Vs. does have, though, is Deadpool. Yup. The movie was actually the first cinematic appearance of Wade Wilson ever, and it's done really, really well. This Deadpool is funny, talkative, deranged as all get-out, AND he gets to stick a grenade into Hulk's mouth after first shooting Wolverine in the face. It's basically one of my top comic book fantasies come to (animated) life.
Despite everyone involved having their clothes on.
Todd McFarlane's Spawn Portrays The Main Character As Broken
If '90s pop culture had an official slogan, it would be "EXTREEEEME!" written in a bloody-penis font above a picture of Wonder Woman re-imagined as a crack whore. The '90s were a really dark period for superhero stories, literally and figuratively, with the 1997 live-action Spawn movie being its badly mentally CGI-ed poster boy. It was the first film I ever walked out of.
I got my money back by simply saying "Malebolgia's CGI."
I think that the movie's biggest problem is that it tried to make Spawn look like a Hell-themed Batman. But Spawn is not cool. He is meant to be a depressed, mentally unstable hobo, a killer who died and came back to Earth with his mind turned into scrambled eggs.
I want to say that it wasn't totally the movie's fault because it's hard to make Michael Jai White look uncool. But then again, the 1997-1999 HBO animated series Todd McFarlane's Spawn cast Keith David (Goliath from Gargoyles) in the main role, and still managed to make the character look deranged and pathetic.
I wonder if that's why he reminds me of King Jellybean.
I estimate that about half of HBO Spawn's first season is just him having mental breakdown after mental breakdown as he tries to come to terms with the fact that he died. And went to Hell. And then came back only to find out his wife remarried. You never feel like you want to be Spawn. Instead, you pity and empathize with him as he digs up his own corpse and wails in sorrow while clutching his wedding ring, or when he sees his undead face and goes into an uncontrollable rage.
One might almost think that he was traumatized by something.
Like by LITERALLY GOING THROUGH HELL.
And since we're on the topic of trauma, the best scene in the series is probably when Chapel, the man who killed Spawn when he was still a human, suffers horrible PTSD because of what he did to his friend. Chapel is a cold-blooded killer, but him and Al Simmons (Spawn) used to be buds, and it still hurts him that he had to fuck him over. Appropriately, these feelings come flooding back while he's screwing a hooker.
Then there was the show's depiction of homeless people, which was incredibly hard to watch. Not just because so many of them get killed but because it's all done so casually, as if the people pulling the triggers didn't even see the homeless as human. It's the indifference in the violence that makes it so disturbing. I don't know if it was intentional, but it was deeper than anything I ever expected from this story.
Hey, that could be Spawn's new tagline.
Star Wars Rebels Is Everything That Episode VII Should Have Been
After all the ... unpleasantness (more commonly known as the Star Wars prequels and special editions of the original trilogy), the very notion of "improving" Star Wars with CGI sounds like the worst idea ever. But we can all agree that that while Episodes IV-VI are great and all, they aren't perfect, and could use a little bit of an update. Episode VII tried to do that, but its mistake was trying to rehash the past and be something new all at the same time, like putting M&M's on a pizza. Individually they work great, but if you put them together, it sort of ruins everything (by which I mean my toilet.)
Star Wars Rebels, on the other hand, is more focused. It knows that it's an updated version of the original trilogy, and it's cool with that.
Bald Chewbacca and orange R2-D2 agree.
The Disney XD 3D CGI HD LOL WTF series technically takes places between Episode III and IV but it's really the adventures of a less annoying Luke Skywalker being trained by another Obi Wan who's basically McGregor's character right down to the facial hair.
"Luke," on the other hand, is named "Ezra" and he isn't a whiny blank slate we're supposed to project all over. Instead, he's a street-smart kid looking for his parents, who then gets caught up in the Rebels' fight against the Empire. Eventually, he rises through their ranks to become a space hero in his own right, all in a world inspired by Ralph McQuarrie's original concept art.
If this sounds A LOT like Rey's story in Episode VII, that's only because Star Wars Rebels was The Force Awakens before The Force Awakens was The Force Awakens.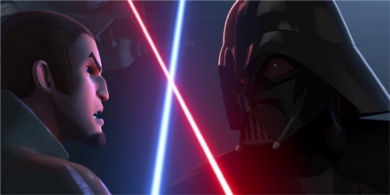 Exhibit A: both feature lightsabers. Case closed.
With improved special effects, a less annoying Luke, a McGregor-esque Obi Wan, and James Earl Jones as Darth Vader, Billy Dee Williams as Lando, and Frank Oz as Yoda (oh yes), Rebels is the Star Wars retelling you never knew you wanted.
---
Cezary Jan Strusiewicz is a Cracked columnist, interviewer, and editor. Contact him at c.j.strusiewicz@gmail.com or follow him on Twitter.
For more check out 4 Signs the Best Fantastic Four Movie Was Made 20 Years Ago and Why The New 'Mummy' Movie Might Be The Best Version Ever.
Subscribe to our YouTube channel and check out Why Next Year's Best Superhero Movie Might Come From Russia - Cracked Responds and watch other videos you won't see on the site!
Also follow us on Facebook, because you deserve the very best.