I have spent more money on comic books and superhero merchandise than I have on my wedding. I used to mow lawns to pay for comic books. Tim Burton's Batman was the first movie I remember seeing in an American movie theater. I own a M.O.D.O.K. T-shirt, a M.O.D.O.K. action figure, and a M.O.D.O.K. coffee mug. M.O.D.O.K. is not a bandwagon character. M.O.D.O.K. is the equivalent of a teardrop tattoo. You know somebody is hardcore if they're talking about goddamned M.O.D.O.K.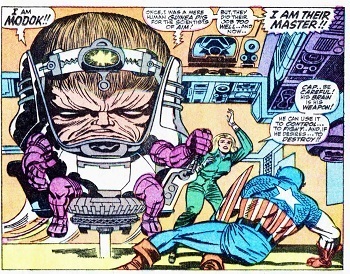 Marvel Comics
Psychic Head Balloon is no one's favorite character.
And despite all that, I still get nervous every time I walk into a comic book shop, like they're all silently judging me. This is a holdover from when I was a little kid and would walk into comic book stores and the guys behind the counter would instantly start making fun of me if I stupidly asked them any questions, thereby admitting my shameless audacity for not having committed the layout of their store to memory. For some reason, the default setting for comic book nerds is "ridicule." The secondary setting is "snacks."
Commons.Wikimedia.org