How Real Life Events Torpedo The Happy Ending Of 'This Is 40'
It's been 10 whole years since Judd Apatow's Knocked Up spin-off This is 40 hit theaters, and… well, there likely are a few reasons why This is 50 never happened. For starters, despite the folksy title, one which seemingly invited audiences to enjoy a relatable story about the universality of middle-aged struggles, This is 40 is a staggeringly out-of-touch movie about a super-rich married couple who apparently own more iPads than a goddamn Apple store.
Making your lead characters affluent isn't inherently a problem, but a large portion of the story is devoted to the husband's financial concerns. Even though, according to historical records, he's roughly 125 (but still looks 22), Paul Rudd plays the 40-year-old Pete, who is struggling to maintain his failing boutique record label business... While simultaneously living in a friggin' mansion. In retrospect, telling a story about financial hardship with characters who are inexplicably wealthy is a little like making a movie about the struggles of being diminutive and casting Shaq.
There's literally a scene where Pete breaks down sobbing about his money problems while sitting behind the wheel of his shiny BMW – which is the worst place to break down sobbing about money problems outside of Scrooge McDuck's vault.
All of this culminates with the revelation that Pete's wife, Debbie (played by Leslie Mann), is pregnant. Oh no, what will they do for money?! Well, it takes them about two seconds to casually decide to simply sell their ginormous house and buy another smaller – but let's be honest, probably still pretty big – house.
In addition to this quick fix, there's a potentially happy ending for Pete's company. In the final scene, the couple attends a Ryan Adams concert, and Debbie suggests that Pete should sign Adams. Well, it turns out that the singer is in between labels, suggesting a bright future ahead for all involved, right?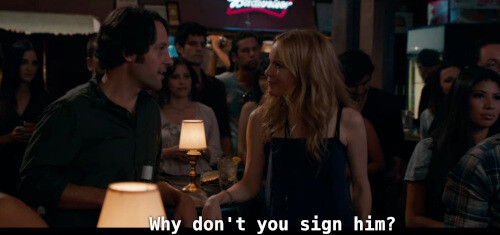 Yeah, not so much. Even this part of the movie has been retroactively ruined. In the intervening years, Adams was accused of sexual misconduct by multiple women in a report published by the New York Times. Specifically, Adams was accused of offering to help female musicians with their careers, then pursuing them "for sex" – and in some cases, "subjecting women to emotional and verbal abuse." Which Adams denied. The Times article also alleged that Adams sent "graphic" texts to a 15-year-old fan and even "exposed himself" to her during a Skype call. Which presumably even a fake record label wouldn't want to be associated with.  
This allegation, which Adams denied, prompted an investigation by the FBI's Crimes Against Children Squad, which ultimately led to no charges against Adams. But the scandal, understandably, drove his then-upcoming album's distributor to cancel the release. In 2021, Adams' fortunes had changed so drastically that he took to Instagram to "plead" to record labels asking for a "second chance," despite the fact that he's now "damaged goods."
So if Pete had managed to sign Adams in the world of This is 40, he likely would have found himself in yet another, possibly even worse financial predicament. Which we're sure would have inspired him to weep openly from behind the wheel of an even fancier luxury car. 
You (yes, you) should follow JM on Twitter (if it still exists by the time you're reading this).  
Scroll down for the next article