Save A Bundle On Refurbished Apple Products For A Limited Time
This piece was written by the Cracked Shop to tell you about products that are being sold there.
In these days of stock market dips and skyrocketing inflation, you owe it to yourself to save some money. You also owe it to yourself to get some shiny new toys every now and then, so if you're in the market for new electronics, consider buying refurbished. Our Refurbished Event is running until September 30, and you can save huge on refurbished Apple products. Here are some of the highlights:
Apple MacBook Air 11" Core i5, 55% off $599 at just $265.99
MacBook Air is an ideal laptop for remote workers because it's so lightweight, you can take it pretty much anywhere. This 2015 model runs on an Intel Core i5 processor with 4GB of RAM and turbo boost technology to give you the extra power and energy efficiency you need to zip through your work.
Apple MacBook Air 11.6" Core i5, 1.6GHz 4GB RAM 128GB, 68% off $899 at just $282.99
For a few dollars more, you can get a bigger screen, a little more processing power, and a better graphics card. Nice, right?
Apple 13.3-inch MacBook Air 128GB, 79% off $1,199 at just $250
What? Bigger screen, but less expensive?! It doesn't make any sense! Yes, this is the same model year, offers the same processing power, but it's $30 cheaper. Don't ask us why, just take advantage!
Apple iPad Air 32GB, 64% off $499 at just $174.99
One of the earlier iPad models, the Air is supremely lightweight and features a 9.7" Retina display for better details in your browsing and streaming. It offers Bluetooth 4.0, Siri functionality, and Wi-Fi connectivity.
Apple iPad Air 16GB, 78% off $499 at just $105.99
Don't need 32GB of storage on your iPad? Who does? Get the 16GB version for $70 cheaper. It'll be a powerful lesson in being honest with yourself about whether you'll ever use that meditation app.
Apple iPad Air 3rd Gen 10.5" 64GB, 14% off $409 at just $349.99
Okay, so you love the iPad Air enough to get a much more recent model. You'll pay a little more, but this 2019 model comes pre-installed with iOS 15, has upgraded Bluetooth 5.0, and runs with significantly more power thanks to an Apple A12 Bionic processor and 3GB of RAM. It also offers double the storage of the previous models.
Apple iPad mini 2, 16GB, 41% off $300 at just $174.99
This budget-friendly tablet is great for anybody who just wants to have a device while commuting or traveling. It's light on the features, but it runs on Apple's powerful A7 chip, offers 16GB of storage, and has a dual camera to keep you connected.
Apple iPad mini 4, 128GB (Wi-Fi Only), 60% off $599 at just $234.99
If you're up for a mini splurge, this 2019 model is a big upgrade over the iPad mini 2. It has an Apple A8 chip, 128GB of onboard storage, has Bluetooth 4.2 and Wi-Fi compatibility, and that same thin design you expect from Apple's line of mini products.
Apple iPad mini 4, 128GB (Wi-Fi + 4G Unlocked) & Accessories Bundle, 60% off $729 at just $289.99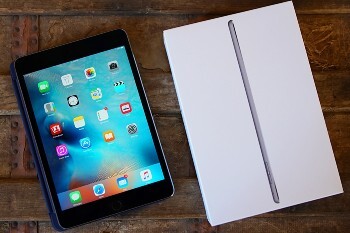 Know you won't always be able to depend on Wi-Fi? Then upgrade your purchase to a 4G unlocked iPad mini, allowing you to connect to the internet virtually anywhere using data. Plus, it comes with a cool case!
Apple iPad Pro 9.7" 128GB, 58% off $749 at just $310.99
Get one of Apple's flagship products from the mid-2010s for more than half off. This iPad offers some of Apple's best processing power in a tablet and has souped-up 12MP iSight and 5MP FaceTime HD cameras to bring out the best in what you really love: your own face.
Prices are subject to change.
Scroll down for the next article