These Innovative Finds Are On Sale For Deal Days
This piece was written by the Cracked Shop to tell you about products that are being sold there.
The best part of any sale is that things cost less money. The second best part is that, because things cost less money, you're more inclined to splurge on impulse buys you're not really sure you want -- only to discover that it was the best purchase of your life. Well, during our Deal Days promotion, we've got all kinds of fun things you didn't know you needed on sale. Check them out.
Allergy Test My Pet Kit, $59.99 (reg. $107)
Your dog doesn't have the option of housing a milkshake and simply popping a Lactaid, so you're gonna have to keep tabs on his allergies for him. This simple, painless allergy test will give you better insight into your dog's physiognomy so you can avoid the foods that make him feel messy.
Alpha Z PRO 4K + Flying Fox 4K Wide Angle Dual Camera Drones Bundle, $174.99 (reg. $398)
Want to get into drone piloting this summer? (Don't worry, it's cool now.) Start yourself off right with this two-for-one bundle. You'll get two outstanding drones that are easy for even beginners to fly, each with its own set of cool camera powers and flying tricks.
Lamp Depot Minimalist LED Corner Floor Lamp, $59.99 (reg. $149)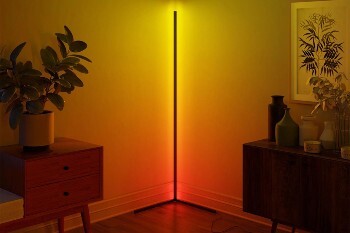 Light up your life like a Spice Girl with this minimalist lamp that offers anything other than minimalist light. It sets up easily in the corner, and you can use the included remote to switch between more than 16 million colors and more than 300 multi-color effects.
Scout Hidden Camera Detector (2-Pack), $99.99 (reg. $179)
Traveling this summer? Don't fall victim to weirdos and perverts in your hotels, hostels, and Airbnbs! This clever device helps you detect any hidden cameras that may be lurking in your rented spaces to give you some peace of mind. People are sick, ya know?
Yedi(R) Total Package Air Fryer Rotisserie + Dehydrator Oven, $125.99 (reg. $159)
It's too hot to turn on the oven, and it makes everything all soggy anyway. From roasts and steaks to pizza, wings, and more, this smart air fryer makes everything deliciously crunchy with up to 85% less fat and without making you sweat balls. It features 16 smart presets for cooking, so it's operable by even the drunkest pool partier.
InstaRobo B1 Robot Vaccum Cleaner, 2-in-1 Vacuum and Mop Robot Automatic Self-Charging, $129.99 (reg. $179)
It's too hot to clean the floors, too. Let this little robot servant do it for you. It vacuums and mops all at once, picks up pet hair like nothing, cleans for 100 minutes before it needs a charge, and will make you feel like a Jetson.
SwingLogic SLX MicroSim - Home Golf MicroSimulator, $169.99 (reg. $249)
Not to alarm you, but it may even be too hot occasionally for the golf course. Luckily, this intelligent, advanced home simulator lets you play real-feeling rounds at virtual golf courses without braving the hell star or even putting on pants. It's a great way to force your family to play with you, too.
Prices are subject to change.
Scroll down for the next article