How 'Obi-Wan Kenobi' Is Secretly Remaking The Original Movies
This week's episode of Obi-Wan Kenobi found our hero saving a pint-sized Leia from kidnappers … again. And while it mostly felt like strawberry goo to the show's Pop-Tart (i.e., filler) in that it repeated a story beat from just two episodes ago, at least we got a scene in which Kenobi finds what may be the entombed body of the goofy alien character briefly played by George Lucas in Revenge of the Sith.
Even aside from a Disney production seemingly showcasing the lifeless corpse of Star Wars' estranged creator, there may be even more meta-commentary at play here. Arguably one of this episode's major weaknesses is that it is a blatant retread of A New Hope, literally involving Obi-Wan Kenobi sneaking into an Imperial base to rescue Leia, who's being held captive and tortured. 
This may be a major clue to how the story of this season of television is being told overall; after all, there are six episodes of Obi-Wan Kenobi and also six episodes of the original, pre-Disney Star Wars movies. And since episode four of Obi-Wan Kenobi is distinctly similar to Episode IV: A New Hope, could it be that each episode of the show was specifically designed to mirror its equivalent chapter in the so-called "Skywalker Saga"?
Episode 1 of the series, not unlike The Phantom Menace, splits its time between a lush green planet, home to a young female monarch, and the deserts of Tatooine, where an aging Jedi wants to train a young Skywalker. And the second episode finds Kenobi in full-on urban hard-boiled detective mode, paralleling his role in Attack of the Clones.
This structure became even more apparent in Episode 3, which ends in a fiery duel between Obi-Wan and Anakin, just like Episode III: Revenge of the Sith (and also every Revenge of the Sith meme).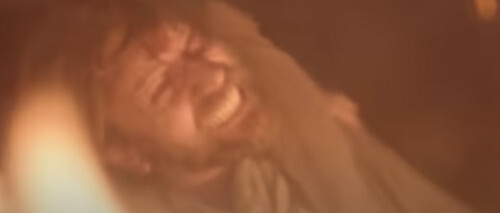 Which could mean that next week will end with some kind of dramatic twist and that the season finale will naturally feature a tribe of bloodthirsty teddy bears.  
You (yes, you) should follow JM on Twitter! 
Top Image: Lucasfilm
Scroll down for the next article