15 Comedians' Worst Shows Ever (According To Them)
All comedians bomb! No matter how skilled you get, not every joke is going to land, and not every audience is going to get YOU. In support of bombing transparency, here are 15 comedians' worst shows ever (according to them).
Jerry Seinfeld
Jerry Seinfeld told Judd Apatow about a time that he practiced and rehearsed his set incessantly the night before. However, when Jerry got on stage, he "stood there for about thirty seconds…saying absolutely nothing, just standing there, freaking out.
Kevin Hart
Kevin Hart tells the story of his worst gig ever at "Crab Fest." He tells it much better than I can here.
Ray Romano
Ray Romano recounted that his worst experience was bombing on a cruise ship because he had to see the crowd several times around the ship after. An audience member didn't notice Romano next to him a few days later and said "He was horrible, where did they get him from?" 
Mike Birbiglia
Mike Birbiglia told GQ, "I was driving my car around the country doing free unpaid guest sets, just driving to clubs from Washington, D.C., and showing up. I popped into the Joker's Comedy Club, which sold dildos in the lobby, and it was the Amazing Johnathan. But he did not want there to be any guest sets—he forbade it." Birbiglia continues that he instead did lights for the show, and was harassed by Jonathan (which was part of his act) the whole time. The owner of the club felt so bad she let Birbiglia pick any show to do a guest spot on, and he chose Mitch Hedberg.
Patton Oswalt
Patton was MCing at the 7:30 Saturday show at Roanoke Comedy Club. He had the worst stomach flu of his life earlier that day and took every medicine under the sun to just give him enough power to do his 15 minutes. On his way up, someone called him the F-slur, resulting in the crowd laughing hysterically. Patton announced the name of the headliner and left.
Jim Gaffigan
Jim Gaffigan says the best story he has from a terrible show was when he was performing at Governors on Long Island. Gaffigan is from the Midwest and heard a persistent heckler "moo-ing" at him his entire set. Gaffigan assumed the moos were to pester him for being from the Midwest, but when Gaffigan went to confront the heckler face to face, he realized it was a severely handicapped man in a hospital bed, using a machine to speak that would "moo" to laugh.
Bill Burr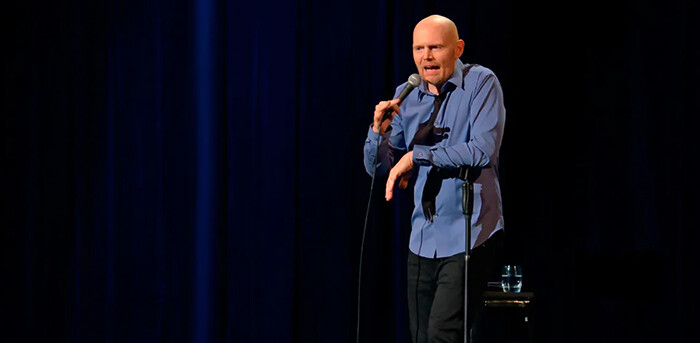 Bill Burr says his worst bomb was at a college cafeteria at 1 pm. He says you need to be "so on it's ridiculous. And I was off." Burr bombed in the echoey cafeteria to 12 students, had a student walk to him and say "ha," then got his check and went home.
Brooks Wheelan
Former SNL cast member Brooks Wheylen wrote his worst bombing story into his routine, which took place at "Gater Growl," a small outdoor festival in Gainesville Florida. According to those that attended the show, he was booed off the stage for being belligerently drunk and not funny. Whelan says it had more to do with sound issues and time placement. He says he performs drunk all the time. 
David Spade
At a college gig, Spade performed to a silent audience for 43 minutes. The show went so badly the organizers didn't want to pay him, saying that he only did 43 minutes when he was supposed to do 45. Spade's manager got the check from the school, but the memo said "But you sucked."
Brian Regan
Regan says he used to bring a tape recorder to all his shows at his first club. He'd put the recorder on top of a booth to record his sets so he could listen back later. One night he'd found out they sat a family at that booth while he was on stage. When listening back, after his first joke he heard someone say "Oh Brother."
Mike Myers
Myers says his worst bombing comes from a set he did in England in the 80s. Myers was in a silly prop heavy doubles act and was performing to a crowd that was keener to see sophisticated political humor. Myers says a heckler started giving fake ironic encouragement to Myers on stage like "A star is born tonight, Mike. You're doing great Mike!" Myers says the experience was awful, but he thought the heckler did a great job.
Kate McKinnon
Kate's storytelling is just too nuanced to translate into text, you have to watch her worst bombing story that took place at the SNL topical meeting.
Hasan Minhaj
Hasan has recounted his worst set was when he was asked to do an hour at Baltimore Community College in the cafeteria. It was a commuter school so no one sticks around after class, but the organizers assured him they advertised like crazy. At showtime, Minhaj performed to an audience of no one but the cafeteria employees, until 20 minutes later when they said "you can stop."
Dana Carvey
Dana Carvey recounts his worst bombing as the time he performed early on in his career at The Comedy Store in West Hollywood. He thinks he had only done standup around 20 times before he got a spot. He went up to a packed room in a full corduroy suit and started his usual material to a silent room which included his girlfriend. He bombed so hard they send up the best comic of the night after because they thought he had ruined the room for the whole show.
Hannibal Burress
In 2002, Burress performed at an off-campus college talent show, that was "Apollo-style" meaning they would have the Sandman dance you off the stage if you sucked. Hannibal brought his friend to record the show, which captured Burress being carried off the stage by the Sandman, while yelling, "Stop the tape! Stop the tape!"
For exclusive ComedyNerd content and more, subscribe to our spiffy newsletter:
Top Image: Netflix
Scroll down for the next article