Adam Scott: 15 Now-You-Know Facts
Welcome to ComedyNerd, Cracked's daily comedy Superstation. For more ComedyNerd content, and ongoing coverage of the Iran/Contra Affair, please sign up for the ComedyNerd newsletter below.
To set the scene, we'll get a mini bio out of the way…
Adam Scott was born on April 3rd, 1973, in Santa Cruz, California, to retired teachers, Anne and Simon Scott. He has two older siblings, Shannon and David.
Boom. Done.
Without a "comedy background", he had a string of minor, more dramatic roles before a good (and famous) pal highly recommended him to Adam McKay for one of the best breakout comedy roles of all time in Step Brothers.
We all know he swooped in and helped solidify the Parks & Rec cast, but in case you just need to know more, here's 15 lesser-known pieces of Adam Scott trivia.
He briefly experimented with more exotic aliases.
What, Scottish isn't spicy enough for you, son?

To seem a bit more "New York-authentic" and "Method-y", Scott considered using his mother's Sicilian maiden name, Quartararo, as a stage surname back in acting school. But because "Quartararo" is kind of a mouthful, he truncated the name, briefly acting as Adam Quardero, before just sticking with Scott.
He pitched a sketch to Barack Obama.
In 2014, he filmed a Funny or Die sketch where he reprises the love-to-hate chopper salesman, Derek Huff from Step Brothers, and belittles the concept of health insurance while standing in front of an American flag.

He personally pitched the idea for the video to President Barack Obama in the Roosevelt Room of the White House, back when the president was enlisting comedians to help promote healthcare.gov.

Hopefully everyone got the satire.
He's a massive David Letterman fan.
After his parents' divorce, he lived primarily with his mother, and had a five-inch black-and-white television in his room, where he discovered David Letterman's original Late Night show on NBC.
He soon became a "Letterman fanatic," watching the program obsessively, and when he was 14, he took the NBC tour of 30 Rockefeller Plaza for a hopeful run-in.
He was not a fan of his pre-acting jobs.
Okay guys, like you mean it this time.
"I worked at Johnny Rockets. For one day. I had to quit because they said that anytime a particular song comes on the jukebox, all the servers have to stop and do this special sing-along and dance, and I just knew that I wouldn't be returning. I also worked at an antique store at one point. I did just about anything to pay the rent for a while.
He had a prosthetic penis fitting with his wife for The Overnight.
"Honey, where's my prosthetic penis?"
For the film, The Overnight, Jason Schwartzman and Adam Scott's prosthetic penises were the talk of Sundance in 2015.
In this Vanity Fair video, Scott wants everyone to know that there clearly was a prosthetic involved, because his character is known for his drastically undersized penis.
Scott's wife Naomi, who was a producer on the film, was there with him the day he was fitted for it, and he said that was the one thing about the whole prosthetic experience that wasn't embarrassing. 
He originally auditioned for Ann's (Rashida Jones') love interest on Parks & Rec.
Good. We like him right where he is.
Adam Scott told GQ, "I actually auditioned for the show before it was even on the air. I really wanted it, but I actually kind of blew it, and so I was obviously pretty upset. When the opportunity popped up again a couple years later, I was really excited. I had a meeting with Mike Schur, and then it all just kind of fell into place from there."
His character, "Ben Wyatt" joined Parks & Rec at the tail end of season 2, in the 23rd episode, "Master Plan". Critics and fans site the third season's addition of Rob Lowe and Adam Scott as the moment the show hit its stride, and Scott earned a Critics' Choice Television Award nomination.
He's a die-hard R.E.M fan.
When Adam Scott gets into something, he goes all in.
Along with that Letterman obsession, he loves the band R.E.M. He was an extra in their music video for the song "Drive" back in 1992, and he even launched a podcast in February 2018 called "R U Talkin' R.E.M. Re: Me?" which is, you guessed it, all about the career and music of R.E.M.
He's said that their later albums, recorded after the departure of drummer, Bill Berry, don't get enough respect, and he's especially fond of "Up" (1998) and "Accelerate" (2008).
His first on-screen gigs.
Other than that R.E.M video, of course.
In 1994, he appeared in an episode of the TV series, Dead at 21.
"My first on-screen gig was a guest-starring part on this pilot for MTV called Dead at 21. I was a kid who had a microchip in his head, and I was going to die in, like, 24 hours, and I had to warn the lead of the show that he had a microchip in his head. Some weird nonsense like that."
He had a couple other TV roles, before is first movie role as "Jacques" the 1996 film Hellraiser: Bloodline.
He's married with two kids.
Well that's just nice.
He met his wife, Naomi at a Sunset Boulevard bar in 1998, when they were in their early 20s. They were married in 2005, and have two children – a son named Graham and a daughter named Frankie.
The couple own and operate a production company together, and he doesn't shy away from heaping praises on his wife for being "brilliant, hilarious and beautiful."
Paul Rudd recommended him for Step Brothers.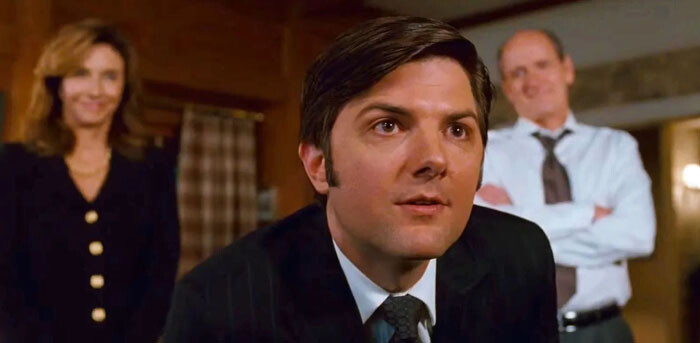 Thanks Budd. I mean, Rudd.
Director Adam McKay was in charge of casting, and he didn't know much about Scott's past work, given that he hadn't shown much of a comedic side. It was his good friend, Paul Rudd, who gave Scott the biggest possible endorsement, telling McKay that Scott is, "One of the funniest guys I know". That was enough to get Scott to the f*ckin' Cataline Wine Mixer.
Scott and Rudd were friends long before their fame, and are close to this day. Scott said, "We had dinner together with our families last night. Our wives are friends, and our kids play with each other."
He was there when George Clooney became famous.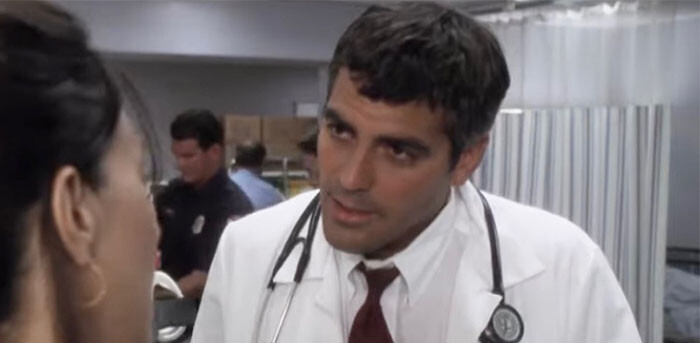 Is that the guy on every single magazine right now?
In season one of E.R, Scott played a patient who had been hit by a car.
"I had three lines or whatever, but I remember that week George Clooney was on the cover of TV Guide for the first time, and so people were starting to notice him. I remember just sitting there, smoking outside and watching him play basketball and thinking like, wow, it's all starting to happen to that guy. I hadn't seen ER and I didn't know who he was, but it was kind of an interesting little point in pop-culture history when George Clooney was really hitting and I was there, weirdly watching it."
He was on Boy Meets World.
Bullying a young Corey Matthews. Shameful.
Scott played bully, Griff Hawkins in four episodes from 1994 and 1995.
Scott said, "It's weird, Boy Meets World has kind of turned into a thing now. At the time, it was on Friday nights at 8 p.m., so no one I knew even knew what it was. It was for kids. So it was a thrill to be on a TV show briefly, but it was not like I ever got recognized for it. If I had known then that in 20 years the series would enjoy such a revival, I probably would have been more psyched about it."
He had to lip sync in Step Brothers.
Derek might be a stickler for the notes, but Adam Scott needs some help.
When Derek's family is singing "Sweet Child O' Mine" in the car, everyone but Derek was actually singing live. Scott was lip-synching to a singer who was standing in front of him outside the windshield.
He had some intimate time with Martin Scorsese.
Teach me everything you know.
In The Aviator, Scott played Howard Hughes' s press agent, Johnny Meyer.
"Martin Scorsese had a screening room in Montreal where we were shooting, and every week he would have a screening. It was usually a movie from the period that The Aviator was set in, and he would stand up and give a lecture after the movie. Because the character I played was a real guy, and he had been portrayed once before in this Humphrey Bogart movie Barefoot Contessa, he showed it one night. I remember sitting there, it was like me, Leonardo DiCaprio, Cate Blanchett, Jude Law… it was amazing.
He beat out John Hamm for the role of Derek in Step Brothers.
Man, he must've had a great audition.
Thomas Lennon said on a 2012 episode of the podcast Making It, there were three finalists for the role of Derek: himself, Adam Scott, and Jon Hamm.
Don't worry, we got to see John Hamm's take on a comedic jerk in Bridesmaids. 
Top Image: Columbia Pictures & Relativity Media