7 Luxury Products For Those With More Dollars Than Sense
Some extremely expensive luxury items have obvious appeal: It's a lot harder for law enforcement to nab you after a drunken hit-and-run when you're in a carbon fiber-clad, 12-cylinder exotic. And 24-room mansions are a necessity when you're harboring a small army of sex acrobats. However, the following extravagances have no functional appeal. They're all designed to show off how much richer (and therefore better) you are than the undeserving mudlarks who can't afford such opulence.
Mini Monster Truck
Hammacher Schlemmer can trace its origins to a humble hardware store begun 13 years before the Civil War. Nowadays, they're the Sharper Image on steroids (and crack). They also sell some super-expensive toys. These extravagances, like the $185,000 Mini Monster Truck, are for kids named Icarus, Cyril, and Filomena.
It's the ultimate version of those little ride-on cars the neighborhood kids smugly "drive" around and scare cats with. But this custom-built, half-scale monstrosity is powered by a real four-cylinder Ford engine and a nitrous oxide system that helps your child attain a top speed of 25 MPH. 
That's a lot of velocity for someone whose bones haven't solidified yet, so the truck boasts a steel chassis that's "just as robust as full-sized models" to protect your precious "young mudswampers with a seamless, 2 inch-diam. DOM steel tube frame that withstands flips, bashes, and crashes." And while the NOS helps your child jump over hills and obstacles, there's no risk of spinal injury because "landings are pillow soft thanks to the nitrogen-powered shock absorbers."
H&S really spared no expense, including Kicker speakers for jamming out and LED lights for night driving. Crucially, it also has a winch and recovery cable so the firefighters can pull the Mini Monster Truck from a ravine. For lawsuit purposes, everything is recorded on the truck's built-in GoPro. 
Most importantly, schoolyard toughs will certainly be reluctant to bully your young one when he pulls up to the private Catholic school in this beast. 
Dog Collar
Big Dog Chains makes chains for big and, presumably, medium-sized dogs. Mainly in the several-hundred dollar range, their ubiquitous Cuban link designs are something out of Rick Ross' jewelry box. 
The most eye-catching, bank account-molesting pieces belong to the Couture Collection, with each item requiring about 500 hours of labor to achieve a "level of quality and attention never seen in the pet industry." BDC wets our toes with the ICE XL and the GOLDEN ICE, going for just under 3 grand each. For that price, you receive 750 cubic zirconias, lovingly handset in each link as well as the clasp. Moving up the price scale, the KILO Solid 10K Gold is crafted from 10K gold, as its name suggests, and retails at a crispy $45,000.
The star of the site is the ROYAL ICE, one of the world's most expensive dog chains at $499,999.99. Its intertwined Cuban links are made from 10k gold (yellow, white, or rose) and 1,000 carats of "white round brilliant diamonds," each of which is "color matched and handset with a robust and custom 4 prong stainless steel setting."
It's perfect for the professional rookie athlete who has just splurged on a G Wagon (it was in a Migos video) and is pursuing another impulse buy that they'll soon be forced to resell at an 85% loss after a catastrophic, career-ending ACL injury.  
Or, if you're a rapper on the rise who has cultivated a considerable Soundcloud following and is this close to signing a record deal, you can opt to pay in four easy, interest-free installments. 
Leather Mahjong Set
The Hermès Mahjong Set was designed to defuse a situation that occurs too often in millionaire households. You and your hairless unblinking escort have just split several games of Bridge, played with silver-edged cards, and are close to blows after one too many cordial glasses of Crème de Violette. Neither of you wanting to scuff your $3,600 unisex nautical jackets, you decide to settle the night with a game of Mahjong. Not with a set made from toxic molded plastics, but the $40,000 Helios Mahjong Set, hewn of "solid palissander wood and printed Swift calfskin" with tiles "in printed full leather."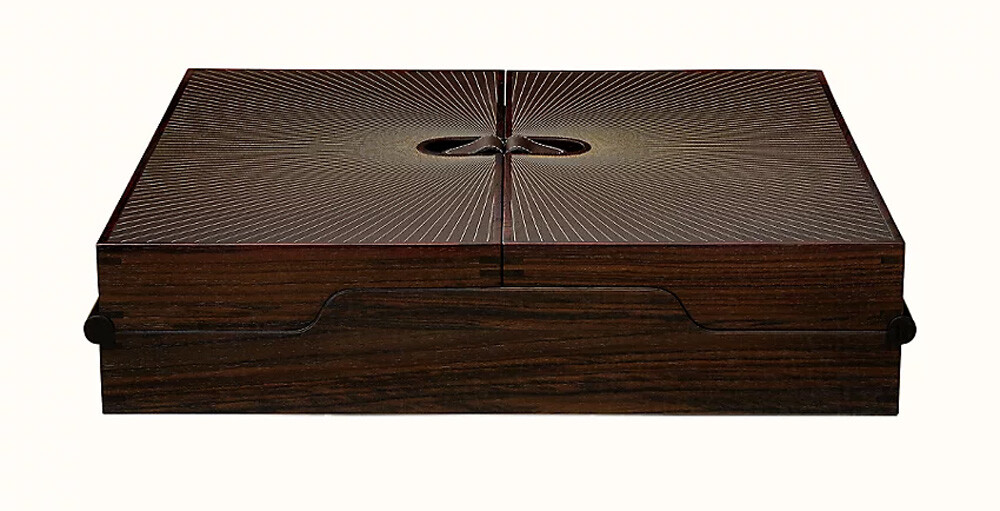 For cultural enlightenment, Hermès informs us that "mahjong" means "squabbling sparrows," for the clacking made by tiles as you furiously slam them down at your hated opponent. In this case, it may also allude to the squabbling you'll do with your accountant once your stock options and war-weapon-sales plunge:
Hermès then hits us with a bit of the Buddhist Zen ideology that originated in China so many centuries ago (while convincing us to buy a pointless $40,000 material object): "The printed full leather tiles knock gently against each other, while the little sticks keep track of the score with a delicate rustling sound." A soothing close to an evening that concludes with … 
Luxury Sex Toys
LELO is an adult-product producer that prides itself on making beautiful, refined items for your genitals. Now a self-described global powerhouse, LELO reshaped and transcended the confines of the dildo industry. These upstart visionaries revolutionized the masturbation game by creating a world-sweeping (their words, not ours) collection of elegant and efficient toys for those sick of inferior items or countless hours spent in the produce section picking the perfectly shaped zucchini squash. 
As market leaders "in design, innovation, technology, and reputation," it's no surprise that they boast a mighty fine luxury line of adult goodies. In fact, these are more than simple sex toys; they're "masterpieces in pleasure." 
Those go in the several-thousand range, but the flagship of the collection is the INEZ $15,000 dildo. Crafted specifically "for women who demand the ultimate in luxurious indulgence," INEZ "is the world's most exclusive massager." It's "defined by decadence and elegance" and is available in two finishes: stainless steel for the peasantry or a lavish 24-karat gold plate for the discerning vagina.  
The golden version is "perfect for those who understand that you can't put a price on pleasure." You can, however, split it into four easy payments when you order it, if your vagina is writing checks your wallet can't cash. 
Anti-Inflammatory/Health Supplement
When most people suffer a spot of back pain or creaky knees after a pick-up game, they shakily reach for a Motrin or Tylenol, washed down with a Bud. Or, since medicines and swill-beers are majorly uniform, a dollar store anti-inflammatory and Keystone Light. 
Not so for rich folk, who don't take their pain meds from blister packs or bottles (prescription opioids excluded). Nope, rich people take their daily anti-inflamms from vials.
That is a choice combination of Nepalese cordyceps, Panax ginseng (aged six years), and royal jelly. Thirty vials of this stuff will set you back $6,348 at Harrods, a true paragon of British snobbery. Even more so now that, in modern fashion like some of England's most iconic footballing clubs, it's owned by Arab investors. 
What you're really paying for here is the cordyceps: a parasitic fungus that infests Himalayan worms, digests their insides, then sprouts from their head as this hellish horn-looking thing: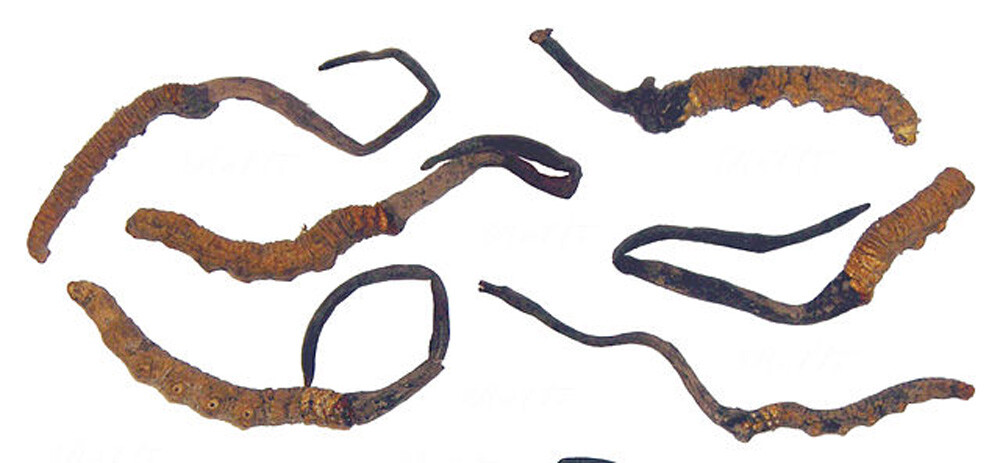 Prices have fluctuated recently, between tens of thousands to just-under ten thousand dollars per pound. For the parasite fungus, yes. As a historical folk cure and high-altitude home remedy, it confers all sorts of beneficial effects. Whether you're suffering from frequent nighttime urination or an opium addiction, this parasitic fungus can cure it good. Plus, it purportedly provides anti-aging, anti-cancer, anti-inflammatory, heart-healthy properties. 
And the science agrees … kind of but not really in any practical sense. There is evidence that cordyceps is biologically beneficial, but in animal or test-tube-type studies. So there's no reliable evidence that any of these effects transfer to humans. Harrods asserts, "for those that take their health seriously, this extract is as potent as it gets." And if you're a lab mouse, fruit fly, or a clump of cells in a Petri dish, Harrod's is absolutely correct. 
$33,000 Ping Pong Table
Ping pong tables aren't super cheap. But that's because you're funding the Big 5 Sporting Goods shareholders' weekly Vegas binges. The materials themselves are quite cheap: a few cents of composite wood board and nets made of the discarded rat sinews from chicken nugget processing plants. So your best bet is to snag one for a tenner at an estate sale thrown by the embittered widow of an Olympic table tennis pro. 
Or you can drop more than 30,000 of your hard-earned (or hard-Ponzi-schemed) dollars on the Lungolinea Gold by Impatia. "Located in the heart of the Milan district," Impatia's goal is to reinvent the classics. And they pride themselves on crafting "bespoke luxury game tables'' to furnish wealthy rumpus rooms.
The first thing greeting you on the site is two worldly urbanites in semi-formal dress, enjoying a game in front of a colonnaded, stained-glass façade. Did these assholes wheel their table from their opulent 5-story walk-up all the way down to St. Peter's Square? We don't know, this raises questions that the site doesn't deign to rationalize for us guttersnipe. 
Regardless, the table is made of low-iron glass, giving it a crystal-clear aesthetic and robustness that stands up to even the most Herculean backhands. So the price is understandable, once you realize you're not buying a ping pong table but a "vision with a desire to ambitiously reinterpret the classics." This isn't something you relegate to a damp garage, it's the centerpiece of your living room. As is proper for "a refined object, a sublime witness of the most advanced Made in Italy technology, that poses no limits to the game." Apparently, none of your 30,000 dollars are going toward sentence structure.
Though you do get 24k gold-plated connecting joints and a net of Alcantara, a suede-like synthetic material that typically lines the inside of higher-end cars. Plus, the net can be removed and the table used as a "dining room or meeting room table for a multifunctional purpose," which is the most ghetto rich-people thing we've ever heard.
$25,000 Taco
Tacos are a universally beloved street food because they're accessible, honest, and good. A real everyman's food. And whether you frequent the finest taqueria or the dude outside of the converted warehouse club-rave at closing time, they're inexpensive. 
Except at Grand Velas Los Cabos, a 5-star hotel in the Tourist Corridor of Cabo San Lucas on a "$150 million beachfront property," the price of which they're trying to defray with tacos. Each goes for $25,000. 
The extravagances start at the bottom, with a gold flake-infused corn tortilla. The perfect vehicle for Kobe beef, langoustine, black truffle brie, and Almas Beluga caviar, the world's most expensive at more than $10,000 a pound. 
Spicing it up is the exotic, mysterious sounding "Morita chili peppers," which a quick Googling reveals are just dried jalapenos. These are mixed with some fine, aged tequila and "kopi luwak coffee, the semi-digested cherry excreta of a civet, a wild cat found throughout Asia." Jalapeno-cat-shit-tequila salsa wasn't on our "Millionaire Food" Bingo card, but what's life without surprises?
For a little more money, a reasonable 150K, you can accompany your taco with something called Ley.925 Pasión Azteca Ultra Premium Añejo. Which is a confounding string of words for poorfolk. Thankfully, the site explains that this is a tequila, and an old one at that. And the same tequila that's added to the salsa, mellowing out the wild-cat excreta. But the valuable thing is also what it comes in: "a hand-crafted white gold and pure platinum bottle." 
The taco, at least, has noble origins. It debuted in 2016 as a charity auction item that raised more than $27,000 for the Los Cabos Children's Foundation. But Grand Velas made the taco a non-charitous menu item in 2017, when they realized wealthy folk would rather buy things that don't help underprivileged children. That only increases the chance of them becoming competing millionaires, after all.
Top image: Big Dog Chains