Stick It To The Apple Man With These Mac Products On Sale
This piece was written by the Cracked Shop to tell you about products that are being sold there.
There's a dirty little secret in the tech world (and also just, like, the general items world): You can buy devices at significantly lower prices if you just get them used. Wild, right? But unlike that sweaty weirdo from Craigslist, refurbishment programs will repair devices to the point where they're working like new. If you're willing to accept a scuff here or there, you can get hundreds off Mac products. We've made it easy! Browse and shop these refurbished Mac products on sale now, and give the finger to Tim Gunn!
Apple Watch
Apple Watch Series 6 GPS 40mm - Blue/Deep Navy (Refurbished)
MSRP: $399
With an always-on Retina display to keep you connected while you're away from your phone and a huge array of health and fitness features like an ECG, activity rings, and tons of metric tracking, this thing is like a Fitbit on steroids, and it's practically brand new.
Apple Watch Series 6 GPS 40mm Refurbished (Rose Gold/Pink)
MSRP: $399
Got more of a pastel aesthetic? We got you covered.
Apple Watch Series 6 GPS 40mm - Silver/White (Refurbished)
MSRP: $399
For the futuristic folks, an understated silver/white model says, "I may or may not be a robot, as these are robot times," but like, really quietly.
Apple Watch Series 6 GPS 40mm (Space Gray/Black)
MSRP: $399
You'll have to pay a little more for the real classic model, but look how sleek that thing is. Totally worth it.
MacBooks
Apple MacBook Air 11.6" Core i5, 1.6GHz 8GB RAM 128GB SSD (Refurbished)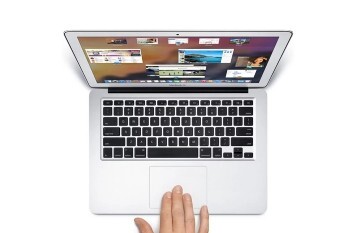 MSRP: $1,299
This swanky little MacBook Air is one of the lightest laptops you'll meet, but that doesn't mean it's not powerful. It's equipped with an Intel Core i5 processor and 8GB of RAM for smooth performance while multitasking and offers a nine-hour battery life to get you through your workday. Take that, laptop body shamers!
Apple MacBook Air 13.3" Core i5, 1.8GHz 4GB RAM 128GB SSD (Refurbished)
MSRP: $1,499
2012 might seem like an ancient year, but the world didn't end like the Mayans thought it would, so Apple didn't scrimp on the MacBook Air. This sleek machine has 128GB SSD and runs on an Intel Core i5 1.8GHz processor and an Intel HD Graphics 4000 graphics card for efficient working and streaming.
Apple MacBook Air 13.3" Core i5 1.3GHz 4GB RAM 256GB SSD - Silver (Refurbished)
MSRP: $1,299
Get a MacBook Air from one year later for just $50 more. With 4GB of RAM and a powerful Intel Core i5 processor, it's all you need to churn through your work on the go. This writer uses one, so you know it must be good! 2013 represent!
Apple MacBook Air 13.3" Core i5, 1.6GHz 8GB RAM 128GB SSD (Refurbished)
MSRP: $1,199
Progressing through our chronological tour of the Cheap But Useful Macbook Museum, the 2015 MacBook Air has a variety of connectivity options, 128GB of onboard storage, an improvement with 8GB of RAM, and an impressive 12-hour battery life. Really test the limits of that coffee shop's loitering policy.
Apple MacBook Pro 13" Core i5 1.4GHz 8GB RAM 128GB SSD - Silver
MSRP: $1,649
Sale Price: $1,248.99 (24% off)
If you're insistent upon only the most up-to-date model possible, you can get the 2019 MacBook Pro for $400 off, you clever minx. This powerful MacBook runs on an eighth generation Core i5 processor, one of the fastest on the market, and can be upgraded to 16GB of RAM. It also has a 128GB SSD for storing all your files. You'll be creating new files just to store them.
iMacs
Apple Mac Mini Core i3 3.6GHz 8GB RAM 128GB SSD - Space Grey (Refurbished)
MSRP: $799
The ingenious Mac mini isn't technically an iMac but a high-powered computer basically sitting in your pocket. This 2018 model has an Intel Core 13 processor, 128GB of internal storage, and 8GB of RAM for outstanding performance. You can connect to monitors or other devices through one of the four Thunderbolt ports to live out all your Hitchhiker's Guide fantasies.
Apple iMac Desktop 27" Core i5 3.5GHz 8GB RAM 1TB SSD (Refurbished)
MSRP: $2,499
Although it was built in 2014, this iMac is still up to modern snuff. It has a 27" Retina 5K display, a 1TB Fusion drive for all your files, and 8GB of RAM for high performance, all for less than the couch you'll be lounging on to watch movies on it.
Prices subject to change.