The Wackiest Deals We Found This Week
This piece was written by the Cracked Shop to tell you about products that are being sold there.
It's summer and we're feeling fired up! Finally, the world is open again, and we're running naked through the streets with joy. We kept running past people who gave us sweet product recommendations to make us go away, so we've decided to pass the joy onto you, along with huge savings. Check out these wacky deals our flapping appendages have drummed up for you.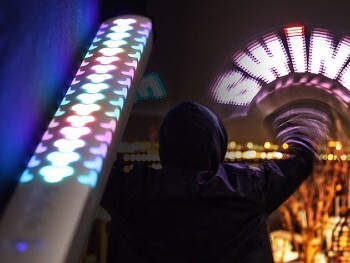 MSRP: $99
Going to sporting events or concerts this year? Swing a message to the world with this crazy stick. Using the afterimage effect of this stick, you can type a message and color into an app, and then start swinging it around to say the message. It'll keep you (or at least it kept us) entertained for hours.
PoooliPrint(TM) L1 Inkless Pocket Printer
MSRP: $144
Sale Price: $69.90 (with code PRINT10)
Print whatever you want on-demand from your phone wherever you are. This versatile pocket printer uses ZeroInk technology that prints out images, lists, and more with 200dpi definition so you never have to panic when your phone dies at the grocery store and you're suddenly incapable of remembering what food you like.
MSRP: $90
This tiny drone almost looks like a bug, but it's worth way more, so don't go slapping it. With a 320-degree flight and 120-degree wide-angle 4K HD shooting capabilities, the Copernicus is a fun way to pretend you are but a wee fairy soaring through the breeze.
MSRP: $96
Want to have a karaoke party without spending $1,000 at the Brass Monkey? Bring karaoke night to your house with this machine that works with your laptop, computer, TV, tablet, or smartphone. You'll also get a voucher for a free subscription to more than 3,000 songs to prove your friends' love for you.
Freewrite Traveler Portable Writing Tool
MSRP: $499
This Indiegogo-funded tool is the ultimate portable writing tool designed for people who want to pretend they're Jack London while looking at a landscape. It features an E Ink screen with no glare, a full-size scissor-switch keyboard, and a four-week battery life. It can hold more than one million pages of drafts, so don't hold back. Put Dickens to shame.
Espresso WFH Touchscreen Display & Accessories Bundle
MSRP: $506
If you're working from home through the summer, keep yourself happy with Espresso, the 0.2-inch-thick touchscreen aluminum monitor that can go with you anywhere. Set up a dual-screened office at a coffee shop, in your backyard, at the park, or anywhere else you think you can be productive.
Handheld Multifunction LED Camping Waterproof Lantern
MSRP: $69
Hitting the trail this summer? Don't get out into the wilderness without a good lantern! This durable lantern fits in your hand, hangs from your bag or tent, and lasts for up to eight hours on a single charge. That's a lot of verses of "Heigh-Ho."
Altec Lansing Jacket H20 3 Bluetooth Speaker (Renewed)
MSRP: $59
Bring the party anywhere this summer with this compact Bluetooth speaker. It's waterproof, sand proof, shockproof, snowproof, and rated to provide up to 10 hours of entertainment no matter where you are. It even floats!
MSRP: $129
Endoscopes aren't just for doctors! (But don't play doctor with this endoscope.) This clever wireless camera can help you hunt down things you dropped under the couch, identify clogs, and much more. You're a DIY person --- figure it out!
MSRP: $69
Got dirty jewelry? Clean it up with the kathy ireland GemSpa! Put your jewelry in this sanitizing system, stick it in the dishwasher, and it'll remove 99.9% of harmful bacteria and viruses from your jewelry while shining it up sparkly clean. No one likes bling that doesn't bling.
Prices subject to change.