Also in 1992, Cooper wrote a comic featuring Marvel's first lesbian hero, but the company didn't seem to mind that much, because dudes making out is gross while ladies making out is (in '90s parlance) hawt. A few years later, when Marvel got the license to publish Star Trek comics, Cooper used the opportunity to create the franchise's first openly gay character -- yes, this "utopian" future showed humans hooking up with all kinds of weird-ass aliens for 30 years before they allowed a single gay person to officially exist.
To be fair, the comic itself provides an explanation for why no one had mentioned homosexuality in Star Trek before: because no one cares. In the issues written by Cooper, a Starfleet cadet from one of the aforementioned weird-ass alien races throws a shit fit after finding out a fellow officer's dark secret, but when the secret turns out to be that he's gay, everyone else is like "... yes, and?"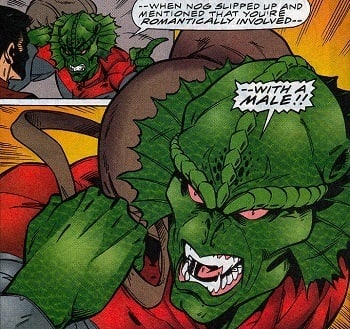 Marvel ComicsThis character later becomes more open-minded after an "encounter" with Captain Kirk.
In the late '90s, Cooper created a pioneering but short-lived gay superhero webcomic called Queer Nation (NSFW, and best viewed on Netscape 3.0). Today, he's a senior biomedical editor at Health Science Communications, which is a job that doesn't offer a lot of opportunities to write about muscular thong-wearing mutants and such. Cooper has said he's hoping to use his new notoriety to get back into comics and continue Queer Nation, though he might have to update the setting, since a key plot point was that "a crazy right-wing fascist has been elected president and is pandering to the religious right." Come on, that's even more far-fetched than the part about a comet that makes every lesbian on Earth disappear and come back with superpowers.
Christian Cooper and John DennisThe bad guy hugging a U.S. flag is a little too on the nose. Who'd buy that?
Follow Maxwell Yezpitelok's heroic effort to read and comment every '90s Superman comic at Superman86to99.tumblr.com.
Top Photo: Marvel Comics