Or Jamie (Colin Firth), a middle-aged author who wants to marry his 20-something non-English speaking Portuguese housekeeper based solely on the facts that she looks good wet and washes his dirty Y-fronts without complaining.
Universal Pictures"Usually, the women that go in my lake have bricks tied to their -- are you sure you can't understand me?"
And then there's David, the aforementioned middle-aged Prime Minister of Great Britain who believes that the planes crashing into Tower 1 and 2 were as full of love as Cupid's arrows. He catches a 20-something staffer he fancies getting sexually harassed by the U.S. President (somehow both dated and prescient in 2003) and gets so jealous he has her reassigned with no more of an explanation than "just a weird personality thing," the polite British equivalent of saying she's just too difficult to work with.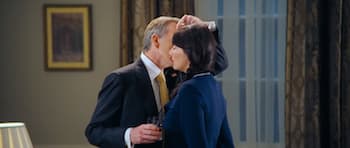 Universal PicturesLooks about as consensual as being grabbed by the fanny.
And if it starts to feel that Love Actually is low-key justifying workplace harassment of female subordinates, you're just not realizing that these women were obviously asking for it. The movie goes out of its way to highlight that Firth's housekeeper makes the first move by taking off her clothes -- before dutifully jumping in a lake to save his manuscript like a trained retriever. Meanwhile, Rickman is the victim of one of those typical nymphomaniac homewreckers you find in every accounting department and Grant's assistant rightfully offers a formal apology to her boss for being so silly for allowing herself to get sexually harassed by the most powerful man in the free world. Maybe Love, Actually's resident creep Colin was right: you really can get away with anything as long as you have a posh English accent.