At this point it really starts to feel as though the IMF has become a metaphor for the Church of Scientology. In order to marry Ethan, Julia has to be indoctrinated into the IMF. Similarly, Holmes had to take Scientology courses before marrying Cruise. The fourth movie, which came out only a year before Holmes officially filed for divorce, reveals that Ethan and Julia aren't together anymore, because the IMF has come between them -- echoing rumors that Holmes left with their daughter because of Scientology. This is still nicer than the original plan to simply have Julia die offscreen between movies.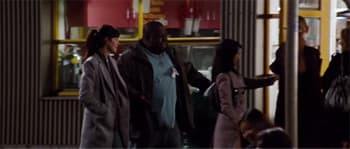 Paramount Pictures
Paramount Pictures"OK, you guys are right. It would be illegal to kill her."
"... Are we still talking about Julia?"
Next came Rogue Nation, released in 2015, the same year as a little documentary called Going Clear. Right as the most culturally resonant criticism of Scientology to date came out, the IMF was suddenly put on trial.
Paramount Pictures
Paramount PicturesThey couldn't license V For Vendetta masks for the mean judges.
In the end, the IMF gets let off the hook because everyone realizes how awesome they are. If you're still skeptical, replace the word "Syndicate" with "Thetan" and see how quickly it all falls into place.