Barring any kind of Girls Go Celtic HBO movie, it sure seemed like Kylo Ren was going to find Rey and Luke, possibly with the Knights of Ren in tow -- leading to, as one report speculated, "a battle between three highly-powered Force users."
When The Movie Came Out ...

Yeah, none of that stuff happened. Kylo Ren never journeyed to Ahch-To to battle Luke, Rey, and the passive aggression of those lizard nuns. He did speak to Rey via their midi-chlorian long-distance plan:
Lucasfilm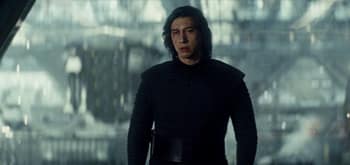 LucasfilmWe've included shots from one of the nipple-less scenes so your computer doesn't melt.
Either because Adam Driver is a super generous actor or no one told him that Skype is a thing, he went to a remote island in Ireland solely to stand off-camera and deliver his lines for Daisy Ridley to react to. And you might be thinking, "Hey, what about that scene in which Kylo appears in Rey's hut so they can finger each other ... so to speak?"
Lucasfilm
LucasfilmThe most erotic non-incestuous (we think?) scene in the series.