... which leads Tony to build the Iron Man suit and ... violently intervene in the Middle East.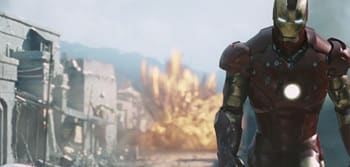 Marvel Studios"JARVIS, activate 'Mission Accomplished' banner."
This was at the tail end of the Bush era, but by the 2010 sequel, uneasiness around the new Obama presidency seemed to percolate into the franchise. At the time, there was a paranoid theory that Ol' Liberal Barry was going to confiscate all the guns. Similarly, Iron Man 2 opens with the government, headed by Senator Garry Shandling, trying to take Tony's "weapon" away.
Marvel Studios
Marvel Studios
Marvel Studios"Every person will get a five-minute ride in the suit on their birthday."