... or the scene wherein Smaug the dragon gets caught in liquid gold, which looks so CGI it's a wonder Randy Newman doesn't start singing about friendship in the middle of it.
New Line Cinema
New Line Cinema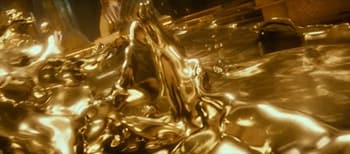 New Line CinemaAlso an accurate review of the trilogy.
Even the movie's people were somehow wholly unconvincing. Take the scene in which Legolas treats the laws of physics the same way Kiefer Sutherland treats the laws of not punching people in the face.
New Line Cinema"Good thing I found the save point before trying this."