Of course, while this theory helps wrap our heads around some of the more baffling choices in the Hobbit trilogy, it also complicates other parts of the franchise. Remember that Return Of The King ends with the reveal that Frodo was writing a book about his adventures -- kind of like the end of Stand By Me, but without adding that Merry and Pippin died in 'Nam.
New Line Cinema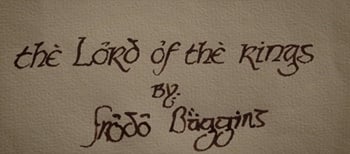 New Line CinemaWho the hell is "Fnodo Buggins"?
So if the Hobbit movies were Bilbo's book, does that mean that the Lord Of The Rings movies were all written by Frodo? If so, why did he go into such detail about stuff he wasn't around for? Wouldn't Aragorn be a little weirded out? It's like if you found out a former co-worker wrote a memoir, and for some reason it included imaginary love scenes starring you.
If the filmmakers didn't want us to draw these conclusions, why prominently feature scenes in which the characters are authoring the books? It's not as if every movie based on a book does this. We don't see an elderly John McClane sitting in front of a word processor typing: "It wasn't just hard to die ... It was hard ... to live ..."
You (yes, you) should follow JM on Twitter, or check out the podcast Rewatchability.
If you loved this article and want more content like this, support our site with a visit to our Contribution Page. Please and thank you.
Don't forget to check out the rest of the articles in this series:
How To Fix The Worst Moment In All Of Star Wars
The Hidden Connection Between 'Ghostbusters' And The Remake
The Secret Subplot You Missed In Jurassic World
How To Make That 'Indiana Jones' Fridge Scene Way Better
Take our ax and follow us on Facebook.