Was Zink insane? Well, at the risk of making a diagnosis across a vast expanse of time and distance, yes, very much so. But he really wanted to assure you he wasn't. As he explained in his will:
The Guardian
So he's got receipts, then. If you don't hate women, you simply haven't done your homework. Anyways, his daughter successfully fought this in court, getting a ruling that her father was partially insane, on account of the fact that her father was completely insane. She ended up with the entire estate, and while there's no word on what she did with it, judging by the lack of dong-mandatory libraries around, we can guess what she didn't.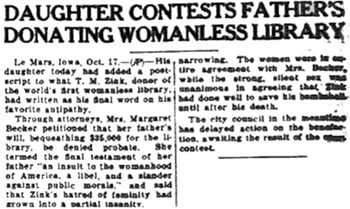 "I'm going to go to his grave and read the complete works of Jane Austen just because I can."