In the future, we will invent six brand-new, never-before-seen angles, and we will use them everywhere. From the landscaping in Star Trek ...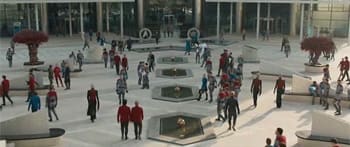 Paramount Pictures
... to the hallways in Star Wars ...
Lucasfilm
... to the maniacally uncomfortable tables in Guardians Of The Galaxy.
Marvel Studios
It's not clear if this is all some fashion trend or the side effect of cosmic radiation on the human brain. All we know is that no one in the future can stack anything, and it takes 15 hours to measure a room for carpet.