Be honest: How many of you spend 90 percent of your time quietly certain that you're smarter than the average citizen, and the other 10 percent getting hopelessly confused by, say, parking garages? Congratulations, you now know what it's like to be an "evil genius" movie character. These poor bastards have to spend most of their movies smirking as they easily stay one step ahead of the heroes (who themselves are often supposed geniuses), only to repeatedly step on their own dicks in the third act. Their evil plots have to be complex enough to seem clever, but by necessity, they must also contain a flaw obvious enough that an average moviegoer can understand it while glancing at the climax over their phone. The Marvel Cinematic Universe's Loki is arguably the saddest example of this archetype. Let us explain ...
"The Trickster God"
As of this writing, we're into our fourth movie in the MCU in which Loki serves as the on-again, off-again villain. He is an illusionist who uses his ability to fuck with people -- which should come as no surprise, as for millennia before these movies were made, Loki existed in Norse mythology as a trickster god. But here's the thing: When you're the recognized deity of a very specific activity, isn't it only natural to assume you might be, you know, reasonably proficient at said activity? And while we understand that there's more involved in being the god of trickery than say, being the lord of fitting your hand all the way inside a Pringles can, there's a reasonable expectation that you might, at least every now and again, pull off a successful trick.
We're not talking about some cheap David Blaine stunt wherein you temporarily dupe your dimwitted brother, but an actual long-term scheme, one which preferably benefits you in some way. Unless your particular niche was even more specific that we thought and you're more like the god of the gag section at Spencer's Gifts.
Marvel Studios
Rumor has it that Odin is considering a lateral reassignment to god of hair gels.
As we examine Loki's career in deceit, we quickly find that ...
Loki Has The Ability To Trick Exactly One Person
In the first Thor movie, Loki is supposedly on good terms with his more muscular hammer enthusiast brother, who is in line to take over the throne of Asgard from Odin. No one suspects that Loki -- the pale, brooding, jealous schemer with the greasy black hair -- is secretly up to no good.
Loki hatches a fairly simple plan: Stage an attack by the hated frost giants which will create a rift between the bloodthirsty Thor and his peace-loving father. Loki secretly lets the bad guys into the palace, and Thor, falling for it, is enraged and launches an unauthorized retaliation on the frost giants' planet. Odin puts a stop to it and banishes Thor to earth, leaving Loki a clear path to the throne. The trickster god has fooled everyone!
Oh wait, no, everyone sees through it immediately. Seriously, the very next time we cut back to Asgard, four of Thor's friends are sitting around a fireplace, and one of them says, "You know, this all worked out really well for Loki, and also his only personality trait is that he lies all the time. I bet he let those shitheads into the palace." That's it! It didn't take any masterful detective work or any real discussion.
The four confront Loki, who says Odin is in a coma (which is true) and then tells a series of lies -- that the queen is unavailable to speak to them, and that he is forced to leave Thor on Earth due to imminent war. The four friends do not believe this for one second, the trickster god again utterly failing to trick them in any way.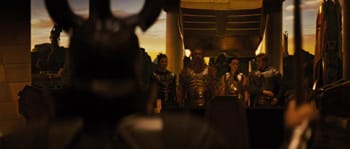 Marvel Studios
*whispers* "Is he actually crossing his fingers in front of us while he's talking?"