While filming one of the many tense scenes between Walt and his wife Skyler, the tension was undercut just a tad by Cranston entering the scene dressed as a giant baby. A literal one. As opposed to most screen stars, who are merely metaphorical giant babies.
Sony Pictures TelevisionThis is probably the closest we'll ever get to a gritty drug-filled reboot of Cabbage Patch Kids.
The actress playing Skyler, Anna Gunn, seems confused at first, but soon joins the fun. This quickly goes from "tense confrontation" to "roleplaying night at the White household."
Sony Pictures TelevisionThat's as far as we can show you.
Similarly upending a dead serious moment with his wacky hijinks, Cranston turned a key scene in which Walt gives Jesse a gun and asks him to commit a murder into more juvenile shenanigans. Instead of producing a revolver and asking Jesse to take a life, Cranston produces a pink dildo. His co-star, Aaron Paul, keeps his cool for admirably long, until Cranston goes and squirts him in the face with water. (Or we hope it's water.)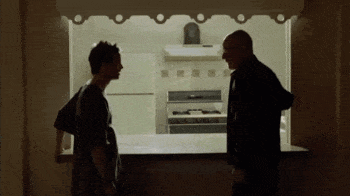 Sony Pictures TelevisionBukkakin' Bad