Keen-eyed observers might note that Thor is rather romantically embracing his brother from another Frost Giant, Loki. Of course, the person he should be awkwardly holding is Jane Foster, the Ann Veal of the Marvel Universe.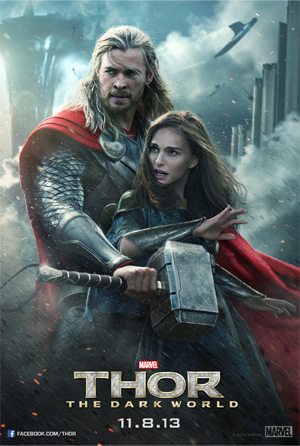 Marvel StudiosHer?
Looking at both posters, it's not hard to see who looks more worthy of Thor's hammer. Thor and Jane had about as passionate a relationship as we do with our Canadian girlfriends. Not that Natalie Portman's to blame for the fact that Tom Hiddleston in a long wig makes for a better leading lady in Thor: The Dark World, mind.
The image came from photoshopper bbqfish2012, an avid longshipper of these two Nordic hunks. She posted the improved poster on Weibo (Chinese Twitter), and it was snatched up by the theater, which we now suspect was running a bootleg version of the movie, since they needed to use Google Image Search for a high-res picture of something they supposedly paid tens of thousands of yuan to screen.