But how was this character made? Was he CGI? A failed attempt by the Henson Company to make an Alex Jones puppet? Nope, it was mostly just a dude in a costume -- and not just any dude, but famed actor and all-around nerd Simon Pegg (best known for Shaun Of The Dead, Hot Fuzz, and, oh yeah, Star Trek).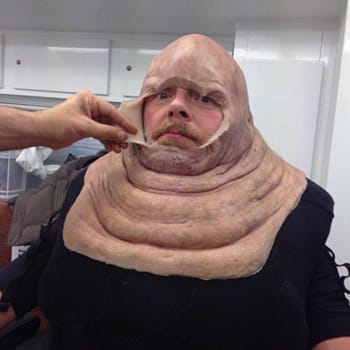 Lucasfilm
Lucasfilm
We're guessing they had to hide his face so that the Gene Roddenberry estate didn't break his legs.
Adding to the "who the hell is that"-ness of the whole thing, Pegg's flabby prosthetic face was augmented by digital effects to make the character "as gross as possible," thankfully stopping short of adding puke stains to his overalls and making Axl Rose his roommate. Pegg's voice has also been altered in the movie, changing the pitch of his lilting British accent to a low, cranky growl -- less Shaun Of The Dead, more Buffalo Bill from Silence Of The Lambs. And while we're on the topic ...